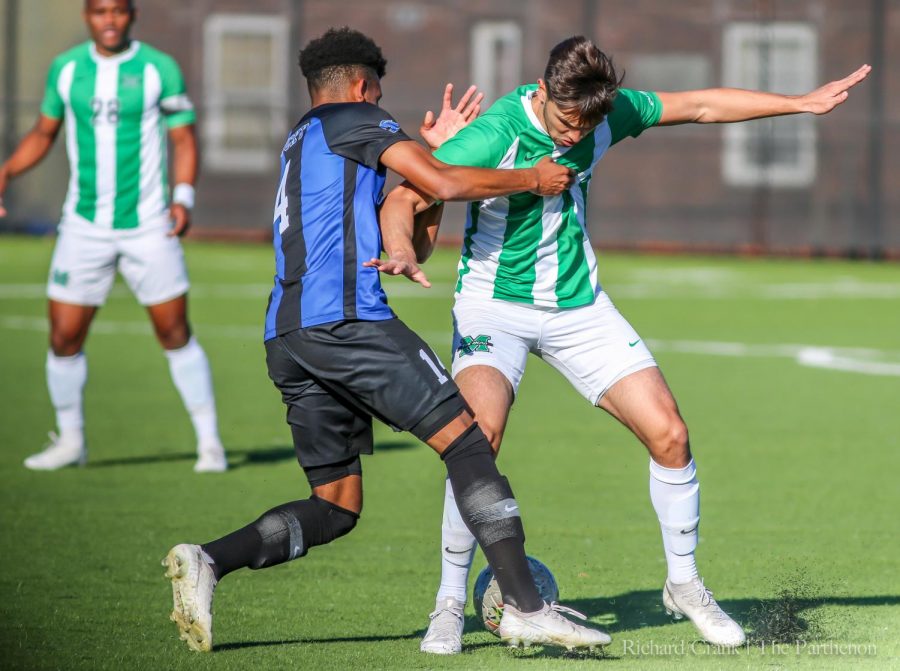 Richard Crank
Following earlier this week's All-Conference USA awards, the No. 1 seed and 13th ranked Marshall University men's soccer team is set to compete against the No. 4 seed and 15th ranked University of Kentucky in the semifinals of the 2019 C-USA Tournament on Thursday evening in Norfolk, Va.
"I think having a bye for the conference tournament is an actual motivation for the boys," redshirt senior goalkeeper Paulo Pita said. "We're going to be fresh legs. I think that's a big advantage for us. We've turned the page so that we can move forward to the next game."
Marshall enters the conference tournament with a 13-2-3 (5-1-1 C-USA) record. The Wildcats' current record is 12-3-3 (4-2-1 C-USA).
Herd head coach Chris Grassie said that the team just needs to refocus to keep the mentality going for the team as it enters the tournament.
"We need to get back to doing what we do well," Grassie said. "We're moving on and focusing on us."
This will be the second time that the two teams meet up during the 2019 season and 42nd all-time-meeting. On Nov. 3, 2019, the Herd defeated Kentucky at Hoops Family Field with a final score of 1-0, with its lone goal scored by senior midfielder Jonas Westmeyer and five saves from goalie Pita.
Coming off its regular season matchup win against No. 19 Florida International University Panthers, the Thundering Herd claimed the 2019 Conference USA Regular Season Championship title for the first time since 2000 when the team was in the Mid-American Conference.
Junior forward Jamil Roberts scored the Herd's 2 goals to clench the 2-1 victory.
"Sometimes the best revenge is success," Roberts said. "I just wanted be professional and go out there and do my job and help the team get the win. I thank the conference for everything. It's a confidence boost for me. We know we're a good team, and it's up to us to keep that same ruthless mentality and keep winning."
Determining the outcome, one of the two teams will be battling for a spot in the 2019 Conference USA Championship match that is set for Sunday at 1 p.m. at Old Dominion's soccer complex.
The winner of the Marshall and Kentucky match will face either the winner of the No. 2 seed and 17th ranked Charlotte and No. 3 seed and 23rd ranked FIU.
"We're going for the trophy," junior midfielder Pedro Dolabella said. "It's one step at a time. We're ready. We're really confident that we can win it all."
Taylor Huddleston can be contacted at [email protected]