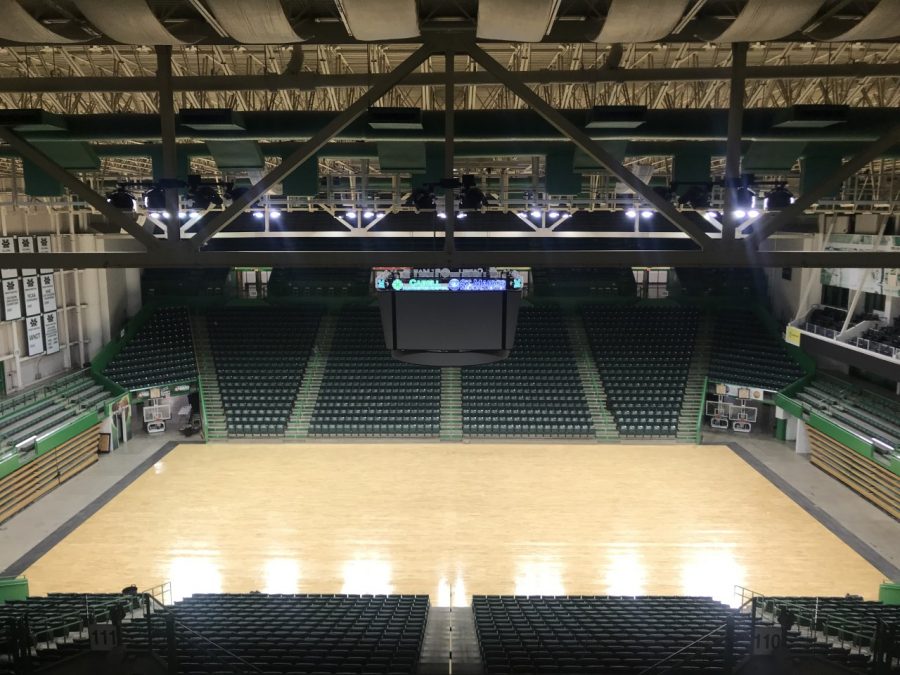 The Cam Henderson Center's floor received a makeover that features a mix of new and old Thundering Herd logos to create a fresh design. 
"Coach D'Antoni likes to use the retro look on a lot of Marshall basketball pieces," Associate Athletic Director Jeff O'Malley said. "We came up with the design that we believe is a great marriage of the old school logo with the traditional Marshall University mark." 
The new court design generated excitement throughout Marshall's campus after it was announced on social media in late August with a preview of what the new design will look like in the Cam Henderson Center.
The center of the court features a new- aged kelly green Marshall M with an old Marco featured in black and white behind with air blowing out of its nose all inside of a kelly green outline of West Virginia. Additionally, a star is in the position of Huntington on the state outline. The baselines feature the Herd and Marshall in white on top of kelly green paint. 
D'Antoni, since accepting the head coaching position at Marshall in 2014, has mixed up uniforms and designs to include the state outline with old and new Marshall logos, so now the West Virginia and Marshall pride has been extended to center court.
An old feature that made its way into the new design is the footprints of Bruce Morris. Morris launched what is now known as the "Shot Herd Round the World" on Feb. 7, 1985. The shot was made from 89 feet and 10 inches away, right before the first half whistle was blown. Morris grabbed the rebound of a blocked shot and threw it.  The Herd defeated Appalachian State 93-82. 
Another change of the court, since the change of the NCAA rule of the college three-point line, is the men's three-point line is outlined in kelly green and moved back to 22 feet and 1 and 1/4 inches behind the women's white line, which is staying the same.
This is the second consecutive year that the Cam has undergone major changes. In 2018, a new videoboard was purchased and hung over center court, something that the Cam had lacked before. The state-of-the-art Daktronics scoreboard that cost one million dollars was privately funded through Marshall's relationship with IMG College who owns the multimedia rights of the Herd Athletics. 
Viewers will have plenty of opportunities to see the new floor in the Cam as the arena hosts the Herd's men's and women's basketball team and the volleyball squad. 
"We received a lot of positive feedback on the look," O'Malley said. "We really look forward to volleyball, women's basketball and men's basketball all competing on it."
The volleyball team will have the first opportunity to play on the new floor as the women have a conference matchup against Southern Miss on Friday Sept. 27 at 6 p.m. 
Brigham Warf can be contacted at [email protected]