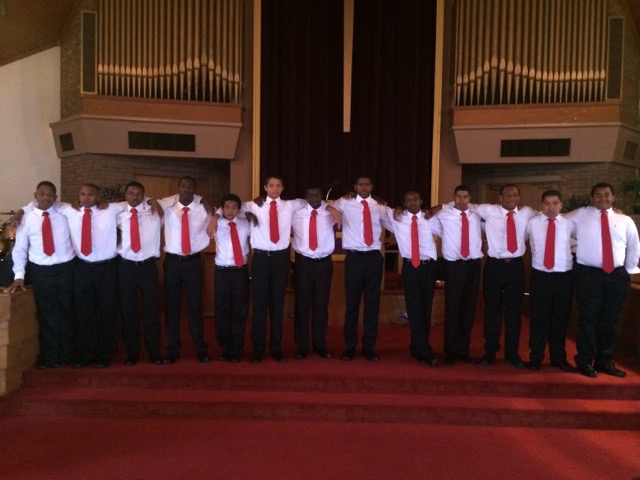 Submitted Photo
The American Dream Movement planned its second public ceremony for new members at 7 p.m. Feb. 8 at Antioch Missionary Baptist Church.
ADM is a group of young-adult advisors who mentor African American teenage boys in the Huntington area.
The group's founder and director, Charles C. Meyers, Jr., a 2013 Marshall University graduate, said he is proud of the program's growth thus far.
"When I envisioned the program, I saw it grow in my mind," Meyers said. "So, I am very proud that the existing members went out and really put out a good word for the Movement and encouraged their friends and fellow classmates to be a part of it."
The sessions consists of activities intended to help the students prepare for their futures, including learning how tie a tie and proper dinner etiquette.
American Dream Movement adviser, Trey Fitzpatrick, sophomore engineering major, said he thinks it is important for college students to get involved with the local middle school and high school students in the community to provide them with a positive role model.
"A lot of kids around this age really don't take their education seriously," Fitzpatrick said. "They might need that reinforcement from people who are getting their secondary education, just to let them know how crucial an education is in order to have a good life. It helps to have positive individuals they can relate to surrounding them on a regular basis."
Meyers also said providing the students with positive role models is critical.
"My main concern has always been seeing this unfortunate repetition of African American men not really striving for success, not really living up to their potential, whether that is in the classroom or just in their behavior," Meyers said. "I always felt there needed to be a change."
While a lot of the students have began seeing much needed changes in their academics, some have began seeing changes in other aspects of their lives.
Lee Johnson, sophomore at Huntington High School and a member of ADM, said the program has helped him become more social, which is something with which he has always struggled.
"I've always made good grades, and I'm in honor classes," Johnson said. "But I've always had trouble with my social skills. ADM has helped me with that. For instance, at first, I really didn't know the other members, and now I look at them like brothers. We all have the same goal—to become successful and not end up like a lot of the African American men that we see in our community that are involved with drugs and other crimes."
ADM meets for its weekly session Saturdays on Marshall's campus.
Malcolm Walton can be contacted at [email protected]