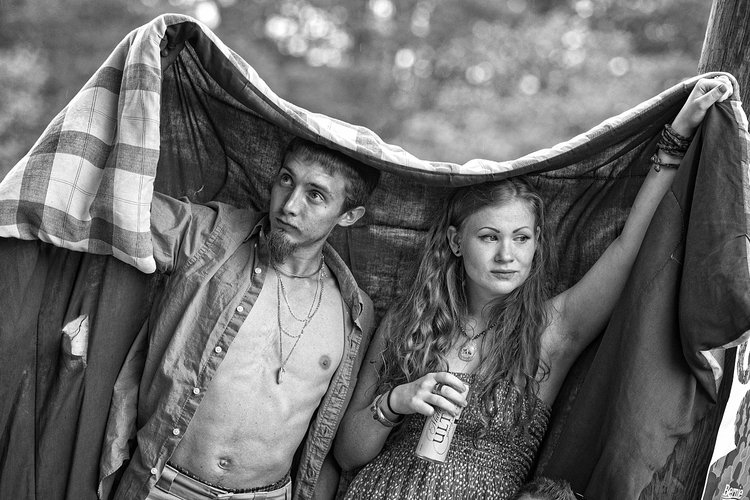 Looking at Appalachia
West Virginia and the Appalachian region in general—its passionate people, colorful culture and noble, honorable history— compose one of the most misunderstood areas of all the United States and likely the whole world.
Accordingly, many modern Appalachian artists are attempting to provide an antidote for such misunderstandings through the powerful mediums of their personal art.
Through December 15 this year, the traveling, crowdsourced art exhibition "Looking at Appalachia" will be displayed at Marshall University's Drinko Library, inspiring interested locals and curious passersby alike to educate and immerse themselves into various firsthand representations of the region's colorful, complex identity.
"Already the exhibit has evoked interest and wonder from students and community library users," Monica Brooks, associate vice president for libraries and online learning at Marshall, said. "We are thrilled to host 'Looking at Appalachia' and can't wait to share it with more visitors."
The exhibit, directed by Roger May, a photographer and writer based in Charleston, features 64 photographs taken from 2015 to 2017 by 45 different photographers in Appalachia.
Together, each of the individual photographs comprises a more diverse, comprehensive, on-the-ground account and representation of life in Appalachia, providing visual contrast to various stereotypes perpetuated by photographs from America's—and Appalachia's— famously declared War on Poverty, initiated over 55 years ago, in 1964, by President Lyndon Johnson.
The 'Overview' section of the Looking at Appalachia website reads, "Many of the War on Poverty photographs, whether intentional or not, became a visual definition of Appalachia."
May and the dozens of other Appalachian photographers who participated in and helped to create the project are attempting to visually redefine Appalachia to more accurately represent its diverse people and unique culture.
"It has now been more than half a century since the War on Poverty began," May said. "In contrast to the imagery that casts the region in an unfavorable light, and in an effort to establish a visual counter point, this project intends to provide a framework for advancing the understanding of photographs made in Appalachia."
The project includes photos from counties in each of the thirteen states comprising the region of Appalachia as defined by the Appalachian Regional Commission. These states include: Alabama, Georgia, Kentucky, Maryland, Mississippi, New York, North Carolina, Ohio, Pennsylvania, South Carolina, Tennessee, Virginia and West Virginia.
"Looking at Appalachia" is currently accepting admissions for its fifth consecutive year until midnight on Dec. 31. More information regarding submission specifications and requirements can be found on the 'About' section of the "Looking at Appalachia" website.
May will participate in a public discussion and reception for "Looking at Appalachia" at 5 p.m. Thursday, Sept. 19 in the atrium of Drinko Library.
Douglas Harding can be contacted at [email protected]