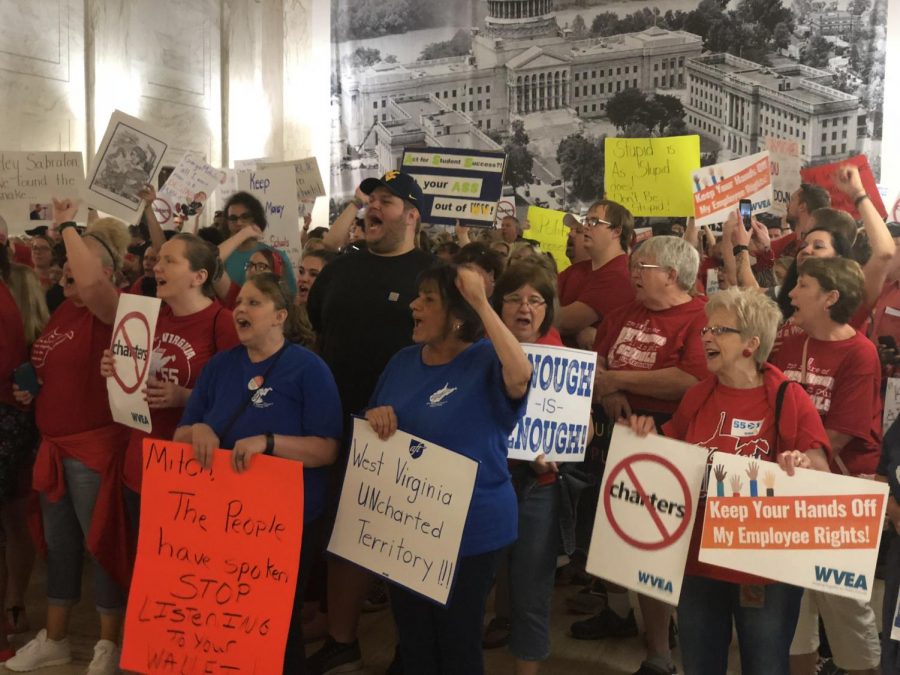 Douglas Harding
More of the same was the story for educators, public employees and concerned citizens who crowded the capitol in Charleston over the weekend during the three-day special session in the Senate regarding public education.
Despite being confronted by two days of passionate protests and a more meager third—likely due to its landing on a Monday—the state Senate passed a similar bill to the Omnibus Education Bill which was tabled by the House of Representatives, significantly influenced by striking public employees, in February of this year.
"For education employees, students and citizens, it has been a disappointing three days," West Virginia Education Association president Dale Lee said during a Facebook livestream following the session. "The Republican leadership in the Senate will not listen to anyone but their out-of-state interests. They continue to push the same, tired agenda that educators, citizens and their colleagues in the House have already rejected."
The new "Student Success Act," Senate Bill 1039, while featuring a pay raise for teachers, also includes multiple components opposed by vocal educators, public employees and locals, including the allowance of charter schools and language they said would be harmful to students and teachers in the case of another strike.
The anti-strike amendment proposed by Senator Charles Trump (R- Morgan, 15) was approved, although public workers in the state have not had the right to collectively bargain or to protest against the state for decades and have chosen to do so regardless over the past two years.
All 13 Senate Democrats, with Senator Robert Plymale (D- Wayne, 05) absent, voted against both SB 1039 and SB 1040, a bill allowing for education savings accounts, while several proposed eight individual-issue bills regarding public education which were not considered. Two Republican senators—Senator Bill Hamilton, (R- Upshur, 11) and Senator Kenny Mann, (R- Monroe, 10)—voted in opposition while the other 18 voted to pass both bills, sending them to the House, which will reconvene at 8:30 a.m. Monday, June 17.
Many educators, public employees and citizens opposed to the influence of 'out-of-state interests' on 'in-state lawmakers' showed up to the capitol to protest the Student Success Act, pledging that their dedication to the fight against privatization and improving public education will persist nevertheless.
Jarrod Farrar, a teacher at South Charleston High School, said he believes the bill, much like the previous Omnibus Education Bill, includes language which is purely punitive in nature.
"The [anti- strike] amendment is only there to retaliate against the teachers and service personnel that organized and stood up for themselves," Farrar said.
The initial strikes were meant to improve the Public Employees Insurance Agency while the following strikes were opposing retaliation bills—which are similar in content to the Student Success Act locals are protesting now—pushed by Senate President Mitch Carmichael (R- Jackson, 04), he said.
"Our strength is in our numbers and willingness to do what is right," Farrar said. "Our organization and ability to have a unified message scares the hell out of ALEC (the conservative American Legislative Exchange Council) and their bought-and-paid-for senators."
Whitney Canada, an elementary school teacher in Kanawha County, also said she believes the language included in the Student Success Act is inspired by nefarious interests of lawmakers.
"I feel the only thing the [anti- strike] amendment does is make it blatantly clear this legislation is retaliatory," Canada said. "It has nothing to do with improving education in West Virginia."
Canada, a member of American Federation of Teachers- West Virginia, said the anti-strike amendment and language within the Student Success Act will have no impact on the future actions of the state's educators.
Canada said she makes each decision in her life thinking of what would be best for West Virginia children, and she became a teacher because of her love of kids and education.
"This amendment will not change that," she said. "If I feel I need to walk out of my classroom to stand up for my students in the future, I certainly will. My students are not for sale and neither are my values."
Vera Miller, a teacher and president of the Cabell County Education Association, said that since public employees already did not have the right to strike, the proposed legislation would mostly punish children, parents and families.
While during previous strikes, superintendents closed schools for student safety, under the proposed legislation, they would no longer be in control of such decisions, Miller said. Additionally, the Student Success Act includes language prohibiting extra-curricular activities to be held while strikes are ongoing, to the further detriment of children and locals, she said.
Delegate Cody Thompson (D- Randolph, 43), a social studies teacher from Randolph County, said the Senate "chose again to ignore the will of the teachers and service personnel and instead pushed charter schools and education savings accounts," without any serious explanation of why such policies would be beneficial for students.
Like many public workers and concerned citizens, Thompson said it is clear that lawmakers are listening to out-of-state political action committees and other interests instead of local professionals and constituents who advocate for student-focused changes like more guidance counselors and social workers to address mental health issues.
Senator Trump's amendment, Thompson said, serves to attack courageous teachers willing to stand up and fight back against corrupt lawmakers. If it were not for the previous strikes of public employees, workers would never have won a pay raise, a freeze on skyrocketing PEIA premiums and various other concessions made by the state legislature in recent sessions, he said.
"They want to make it more difficult for us to fight back against their attacks so they can push through whatever they or their out-of-state pals want," Thompson said, continuing to say the fighting spirit of public employees will not be silenced or subdued by such legislation.
"I'm going to continue to fight," he said. "The teachers and service personnel are going to continue to fight and not give up. We aren't going anywhere."
Douglas Harding can be contacted at [email protected]