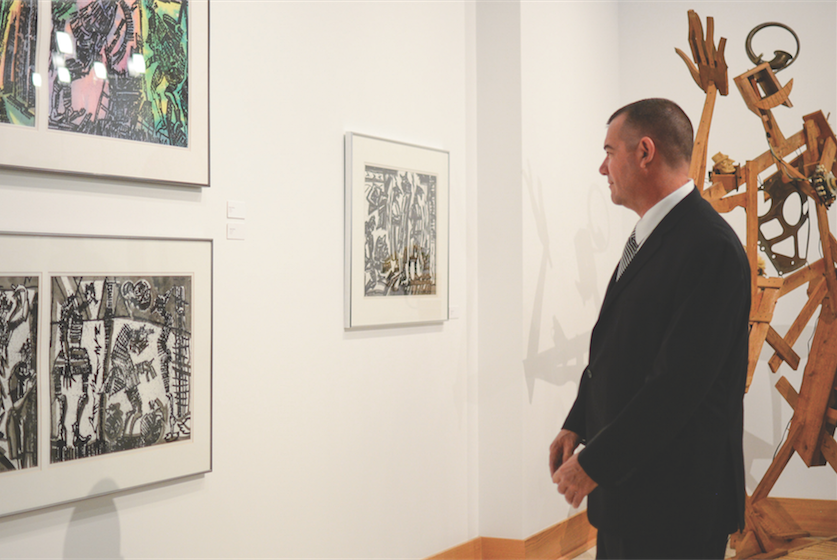 Lexi Browning
The Marshall University Visual Art Center first opened Aug. 25, 2014 providing classrooms for students to learn and gain more art experience.
The gallery contains professional artwork from all over the country for art students to have examples.
Megan Schultz, director of the Visual Arts Center Gallery and facilities coordinator, said students learn more by being exposed to professional artwork.
"It's really important for our students to be exposed to actual artwork created by professional artists," Schultz said. "The more exposure to those artworks the better."
Schultz said teachers bring their classes down to see examples of artwork. She said seeing the artwork in person gives the students a better idea.
"It is very convenient when they just have to walk downstairs to see all these great exhibits of great artwork," Schultz said.
Cody Wheeler, a graphic design student at Marshall said the VAC is good for designers and for people looking to get into the arts programs at Marshall.
Wheeler said the VAC is better than the one in Smith Hall.
"There is much more space, bigger galleries and everything's better," Wheeler said.
Graphic design major, Brianna Jarvis, agreed with Wheeler.
"I think that the Birke Art Gallery is more intimate, which I think has its perks for sophomore review," Jarvis said. "But as far as our new gallery goes, there is a lot more space to have more elaborate capstones."
Art and workspace is provided to the students who are taking classes at the VAC.
The VAC Gallery is open to the public from 10 a.m. to 4 p.m. on weekdays. It is located on 927 Third Ave. in Huntington.
Matthew Prandoni can be contacted at [email protected]