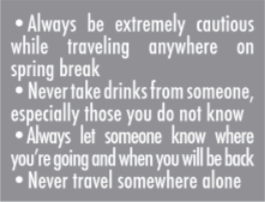 With spring break just days away, Marshall University Police Chief Jim Terry said there are a lot of generalized tips all students should know and think about before, during and after their travels or stays during the break.
"It is important for students to make sure they are making smart and safe decisions not only all the time, but especially when traveling for spring break," Terry said.
Terry offered safety suggestions for traveling during spring break.
In addition to these traveling tips, there are also tips to consider before students leave campus and travel elsewhere, Terry said.
"If you are going somewhere for spring break and live off campus in a house/apartment, try to arrange for a neighbor to help you out," Terry said. "Have someone you trust get your mail and watch your home for someone lurking around. Leave a light on to make people think someone is home. And never pack your car a few days in advance to you leaving."
While these are simple and easy tasks that can be completed, they are high priority in importance while keeping yourself and your property safe, Terry said.
"Burglaries do increase during the week of spring break," Terry said. "Criminals know that there is no one here on campus, and they take advantage of the people/students being gone and their homes being empty. And that is the primary reason you want someone to collect your mail and to leave a light on; also, a reason to why you do not pack your car early. They are always watching. The last thing you want is the criminals to think someone is not there. So of course, you want to make sure that there are not any signs that there is not."
Mackenzie Jones can be contacted at [email protected]