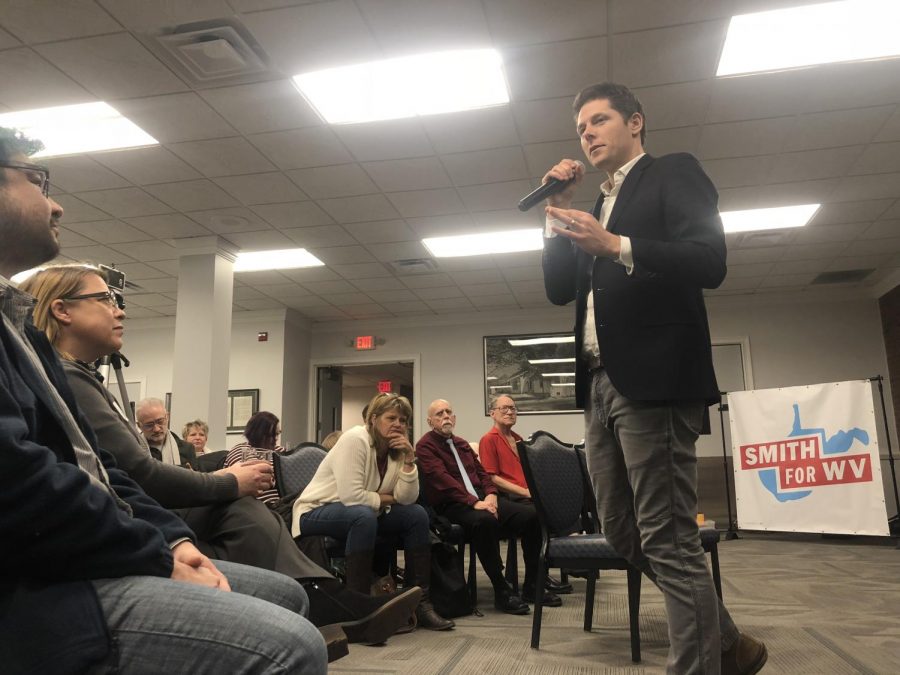 As part of his 55 County Town Hall Tour, an anti-poverty community organizer turned gubernatorial candidate met with local constituents to discuss their priorities and the "WV Can't Wait" movement Saturday, Jan. 26, in Marshall University's Memorial Student Center.
"WV Can't Wait" is the grassroots movement gubernatorial candidate Stephen Smith is building with aims to substantially transform the current sociopolitical power dynamic within the state.
"We can have a West Virginia that belongs to all of us," Smith said. "But Jim Justice won't get us there. And neither will I or any other political candidate. We need a movement. We need a thousand leaders, not just one."
One way the movement is fighting to regain power on behalf of disenfranchised West Virginians is by building grassroots constituency teams of issue-focused social and political activists, organizers and candidates. Currently, Smith said, the movement has 23 candidates planning to run for office in 2020 and over 32 constituency teams, including groups of students, veterans and activists, fighting for universal clean water, investment in renewable energy and jobs programs, expanding availability of addiction treatment and many other grassroots-focused issues.
Touting a platform based on the concerns of Americans typically abandoned by the political process, Smith also spoke on the importance of being able to look past partisan divisions to find politicians who represent one's values.
"Left versus right is a joke," Smith said. "Politics is not left versus right. It's the people versus the good ol' boys club."
In West Virginia, Smith said, there has almost always been two separate sets of rules to follow, depending on one's sociopolitical status. One's experience of the state almost entirely depends on whether he or she is considered part of the "good 'ol boys club," he said.
"If you walk into an elementary school classroom in West Virginia right now, you would be more likely to see a kid who is going to grow up and overdose than a kid who is going to grow up and become a doctor," Smith said. "That's what happens when the good ol' boys are in charge."
If West Virginians are dedicated to having a government that works for everyone and not merely the wealthy few at the top, Smith said, all working and struggling people must work together to build it.
In 54 of West Viginia's 55 counties, the number of people who stayed home on election day in 2016 was greater than the number of people who voted for the winner of the election, Smith said.
"We have to get those people to come out and vote, and the way to do that is by offering them something worth voting for," Smith said. "Especially young people. Especially people with criminal records. Especially people in recovery. All the folks most left out of the political system are the ones who most deserve to be in it."
If he and other "WV Can't Wait" candidates are able to reach even 5 to 10 percent of those people, Smith said, he thinks they could have the power to swing elections across the state, and they would be doing so in a way that holds them accountable to the most vulnerable amongst their constituents, not the most wealthy or powerful.
Smith said too many West Virginians have been convinced the state does not have enough money to provide for all its citizens.
"This is the richest time in West Virginia history, and all we're told is that we have to choose who amongst us will be able to make a living and who won't," Smith said. "We've been brainwashed to believe we can't have a world that is good for most people."
Some ways to enhance the lives of everyday and struggling West Virginians would be to force the wealthiest citizens who already have plenty for themselves, like Governor Jim Justice, to pay their fair share in taxes and to rewrite the tax codes to favor small businesses over extremely wealthy corporations, Smith said.
"As long as we're fighting each other, they win," Smith said. "And politics is not a sport. There are lives at stake."
Opal Sanders, a lifelong Huntington resident who attended the town hall, said connecting with disenfranchised West Virginians enough to engage with them in the political process will be key if Smith and the "WV Can't Wait" movement are to have much success.
"I've gone door to door and talked to people myself," Sanders said. "So, take it from me. You can knock on 100 doors in West Virginia, and at least 60 people will tell you they just don't vote anymore."
Most West Virginians, she said, have practically entirely lost faith in the political process, even those who used to be politically motivated and adamant about voting.
"These people have been abandoned so many times, for so long, they've just lost hope," Sanders said. "They think the good ol' boys are going to be in control no matter what."
Effective grassroots organizing to efficiently spread Smith's messages and those of "WV Can't Wait"will be essential if the movement is to gain significant momentum, she said.
"The message of fighting back against the good ol' boys could really connect with people in West Virginia," Sanders said.
Modern politics is not simply a polite discussion between the left and the right, Smith said.
"Politics is a battle for power between the people working and hurting the most and the good ol' boys club," Smith said. "Our job is to change who is in power. If all of us get together, we can build a government that works for everybody."
Saturday's town hall was sponsored by Cabell County Young Democrats and Marshall University Young Democrats in partnership with Tri-State Indivisible.
Douglas Harding can be contacted at [email protected]