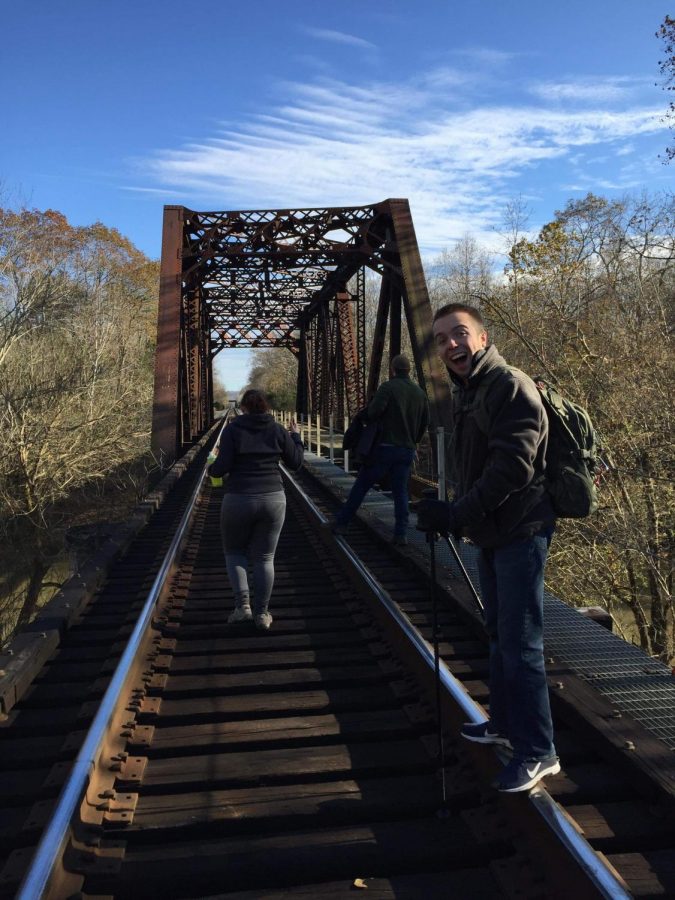 Photo Courtesy of Hannah Currey
Hiking Herd, Marshall University's club for nature lovers and all things outdoors, formed earlier this semester after two Marshall students and close friends went on a backpacking trip to Cumberland Island, Georgia, over spring break.
"Kelsey and I both love the outdoors and anything to do with camping and hiking," Hannah Currey, vice president and co-founder of Hiking Herd, said. "We started the club because we want to do these things year-round, not just during spring break."
Currey, junior dietetics major, said she would recommend the club to any students wanting to try something new, challenge themselves to be more active and healthier or wanting to make new friends. There is no prior hiking experience required to join the club, she said.
"Sometimes, in our busy and hectic lives as college students, we forget to stop, breathe, turn off our phones and laptops and just go outside," Currey said. "Hiking Herd is our way to escape the college scene for a few hours."
Sometimes people, especially college students, need to recharge themselves, and there is no better way to do so than connecting with nature, Currey said.
"Nature keeps us grounded," Currey said. "We all breathe the same air, and it's air the world provides us."
Nature and being active and outdoors more often, Currey said, can be therapeutic for people in multiple ways including to relieve stress, improve one's immune system, help maintain weight and improve mental health with the release of dopamine in the brain.
Kelsey Peters, Hiking Herd's president and co-founder, said the club is special because of its heavy emphasis on friendship and enjoying the outdoors more so than on hiking ability.
The club encourages beginners to join to increase their time in nature while also improving their hiking skills, Peters, senior dietetics major, said.
"We don't do any activities that are too strenuous and would require a really high level of physical fitness," Peters said.
Peters said she believes people spend too much time on their phones and computers, and it is important to disconnect sometimes to connect with nature. Hiking, she said, is her favorite way of calming herself when she feels overwhelmed and stressed.
"Nature is food for the soul," Peters said. "It really calms me and brings me joy."
Hiking Herd currently have scheduled meetings once a month on Mondays. The next meeting will be Monday, Nov. 26 at 6:30 p.m. in the John Spotts room in the Memorial Student Center.
At meetings, Currey said, the club's members usually discuss fundraising ideas and plan times and locations for upcoming hikes and events based on majority rule.
Hiking Herd's most recent event was a hike at Barboursville Park, Sunday, Nov. 11.
Club members are planning a snow-tubing and skiing trip for the winter, since the weather will not be particularly suitable for hiking, Peters said.
Douglas Harding can be contacted at [email protected]