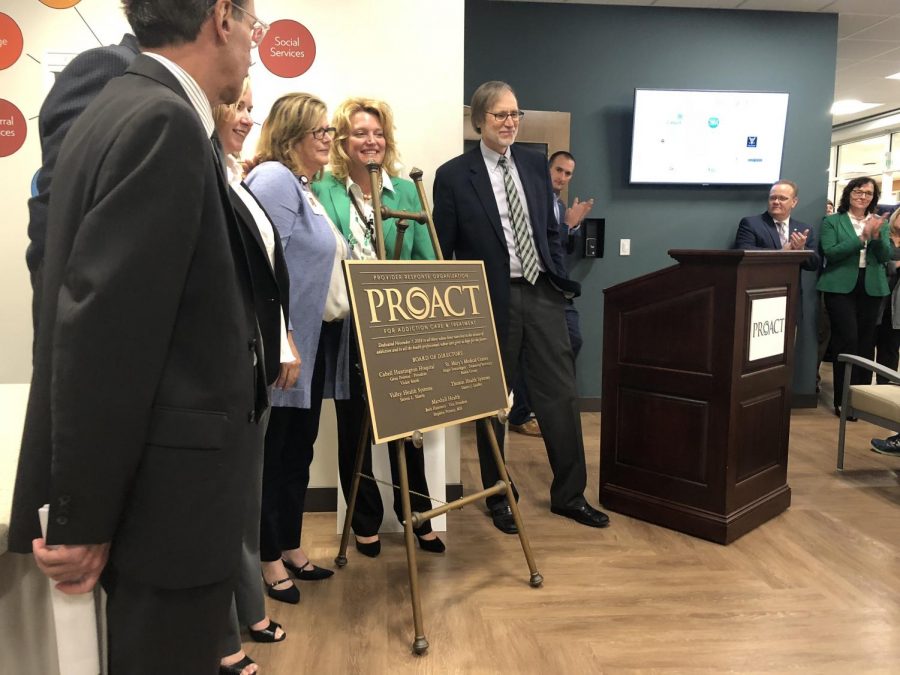 Douglas Harding
The Provider Response Organization for Addiction Care and Treatment was presented a $400K grant from Aetna Better Health of West Virginia Wednesday, Nov. 7, at the new Huntington facility on 20th Street.
PROACT is a culmination of the services and efforts of several local health centers including Saint Mary's Medical Center, Thomas Health, Marshall Health, Valley Health and Cabell Huntington Hospital intended to serve as an additional recovery service.
"We will do a lot of referrals for people," Jeff Fenerty, director of pharmacy services at Marshall Health, said. "We want to help people decide if maybe they need a new job, a new group of people, a new place to live, to start going to therapy or anything else they need help with."
PROACT is a service intended to give those struggling with addiction an opportunity to recover regardless of how difficult the recovery process may be, Fenerty said.
A lot of recovery services fail, he said, because while they help wean people off drugs like heroin, those people often return home to families, friends and environments where drug use still regularly occurs.
"This makes it almost impossible to stay clean and sober," Fenerty said. "You have to do whatever it takes to stay away from environments and influences that lead to addiction."
Jennifer Skeens, a pharmacist at the new PROACT facility, said the organization will help provide solutions to needs within the Huntington community which are not currently being met.
"We provide Huntington with a community center for rehabilitation with a holistic approach addressing medicinal, spiritual and social needs of individuals," Skeens said. "We want to look at a person as a whole and help them get to where they need to be."
Bob Hardin, a retired Huntington resident who participated in community meetings which eventually led to the formation of local rehabilitation center Recovery Point, said organizations like PROACT help control or even cure the illness of those suffering from addiction.
"Drug addiction is a baffling disease," Hardin said. "People suffering from addiction are people who need our help."
Usually, this help can most effectively come from services like rehabilitation centers, Hardin said, and it does not seem like throwing addicts in jail seems to help the problem.
Fenerty said a lack of decent paying jobs and available recreational activities are major contributing factors to the drug epidemic currently plaguing Huntington and similar areas across the country. Bringing back good-paying jobs and other ways to help struggling people will benefit the community greatly while also restoring hope, he said.
"Addiction is a disease," Fenerty said. "People don't choose to live this way. No one wants to be an addict."
Douglas Harding can be contacted at [email protected]