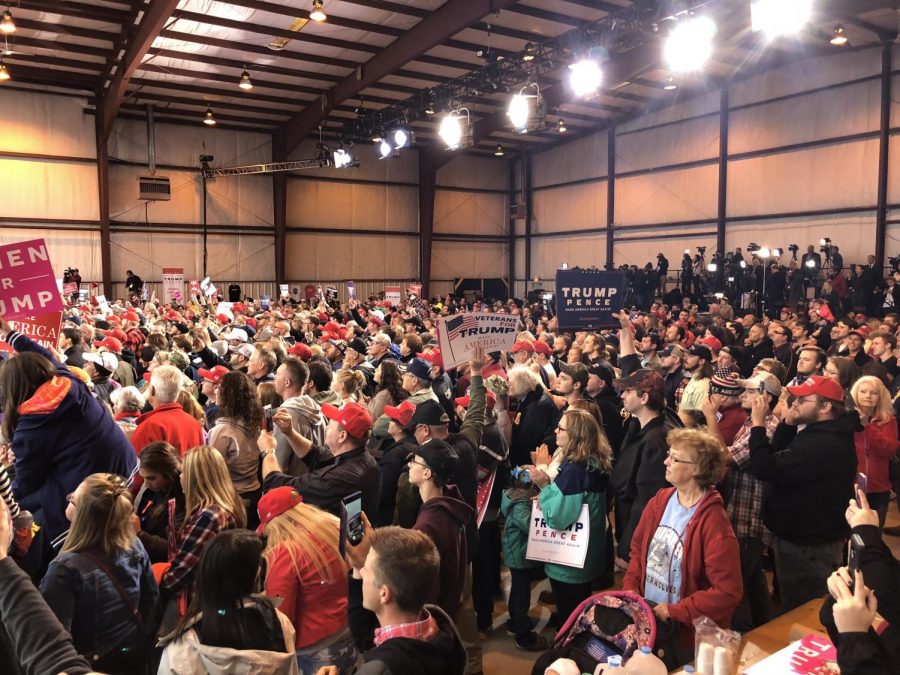 Douglas Harding
Improving the lives and jobs of working, middle and lower class Americans who have felt abandoned by politicians for decades is a top priority for supporters of President Donald Trump in West Virginia.
Trump rallied with supporters, Friday, Nov. 2 at Huntington Tri-State Airport's Hangar 3, where he spoke about job creation, immigration and the upcoming midterm elections.
In the 2016 presidential elections, Trump won West Virginia by one of the most significant margins of any state in the country, and today Trump remains popular in the state.
For decades, West Virginia has been plagued by nearly the lowest voter turnout percentage in the country, with roughly half of eligible voters consistently making it to the polls. The only lower-ranking state is Hawaii, where less than half of eligible voters participate consistently.
While in 2016 roughly two percent more voters in West Virginia showed up to the polls than usual, the state's voter participation remains well below national and global averages.
Michael Caudill, a retired construction manager from West Virginia, said he is a registered Democrat, but he supported Trump in the 2016 election after being turned away by Hillary Clinton's rampant corruption.
"The more I listened to Hillary, the less I thought she would help us," Caudill said. "The more I listened to Trump, the more he made sense to me."
Caudill said he feels Democratic politicians have lost touch with the backbone that built their party: working people. He said Trump's campaign rhetoric reminded him of the Democrats he heard and supported while growing up.
"Sometimes Trump talks like a Democrat from the 50s, 60s or 70s," Caudill said.
Caudill said he supported President Barack Obama in his first campaign but thought over time he had become one of the worst presidents in American history.
"All our politicians are crooked, but Trump is at least open with his ideas and what he wants to do," Caudill said.
Caudill said one of Trump's biggest appeals to himself and others in West Virginia is his lack of a desire to be civil or politically correct.
"West Virginians appreciate people who just say what they think," Caudill said.
Courtney Midkiff, a small business owner from West Virginia who supported Trump in 2016, said she also appreciated Trump's apparent straightforwardness, while most politicians do not sound like real people.
"I know Trump isn't politically correct, but I don't really care, because neither am I," Midkiff said.
Midkiff said she felt Trump is practically the only candidate who seems to not promise more of the same in a time when voters are desperate for change.
Midkiff said her father was a working-class Democrat, and, to her, increasing and improving available jobs is still perhaps the most pressing issue for voters right now both in the U.S. and in West Virginia.
"I have four children, and they all have jobs because they don't have a choice," Midkiff said. "And they are desperate for their paychecks every week."
Midkiff said it is unfair for so many hard-working people in the U.S. and the state to still be unable to afford to care for themselves and their families. She said American politicians are too distracted by their wealthy donors and other issues when they need to focus on helping working and poor people.
"Right now, in the big picture, people like myself feel like we don't matter at all," Midkiff said.
Boyd Hager, a retired West Virginian accountant who also supported Trump in 2016, said the economy and creation of jobs are the most important issues facing America today.
"We have a lot of issues right now, but the economy is one that affects everything else," Hager said.
Hager said while he plans to vote for Trump again in the next presidential elections, he is open to supporting another candidate if they focus on issues he and many other West Virginians care about, like the economy, jobs, affordable education and improving treatment of the military and veterans.
"I'd be willing to support another candidate if they made sense," Hager said. "Trump just made sense to me."
Caudill said he feels likely to vote for Trump again in the future as well, although it is possible he could change his mind.
Caudill said Democratic politicians do not stand for much anymore, especially not the working-class values the party was founded and built upon.
"And, if you ask me, the Republican politicians are just looking out for the wealthy," Caudill said. "But Trump doesn't seem like a true Democrat or a true Republican."
Caudill said to regain control of the House of Representatives, Democrats would need to focus more on working people and average Americans instead of appealing exclusively to the wealthy.
Douglas Harding can be contacted at [email protected]