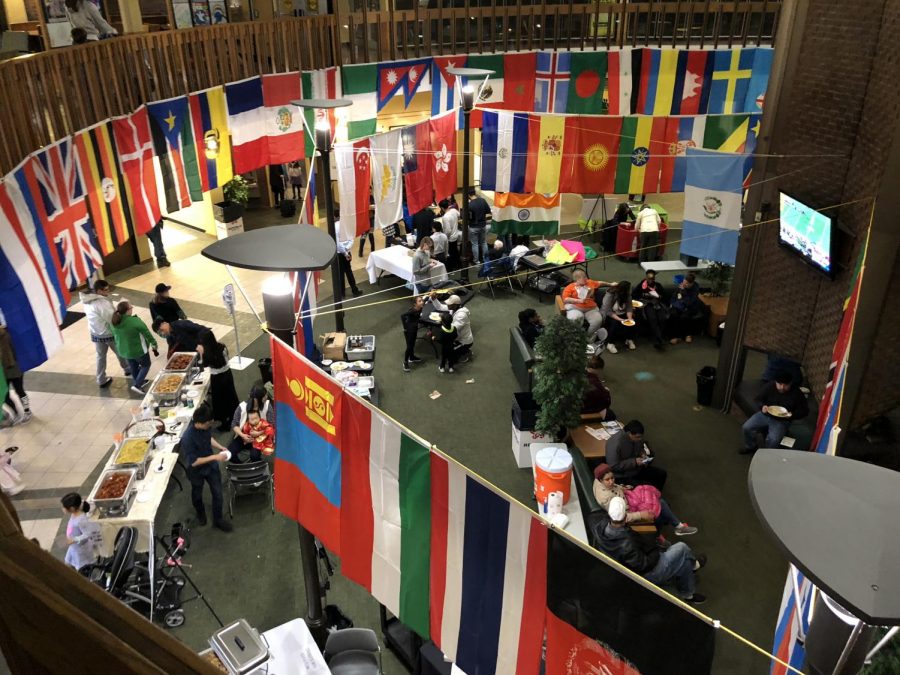 Douglas Harding
West Virginia's largest international festival featuring foods, music and booths from around the world returned to Marshall University Saturday, Oct. 27, in the Memorial Student Center.
Marshall's 55th annual International Festival, organized by the Office of International Student Services, encouraged students and residents to explore and learn about the countless countries and cultures on display, Connor Kinder, an English graduate student at Marshall, said.
Kinder, a member of Marshall's world council and intercultural Hispanic organization, said this year was his first time attending International Festival, but he plans to set up a Mexico booth for the intercultural Hispanic organization at next year's event.
"There are so many friendly people and different cultures, smells, clothing, foods and colors," Kinder said. "International Festival really brings something unique to West Virginia, Huntington and Marshall."
Kinder said International students make up a significant portion of Marshall's student body and it is important we encourage them to bring their cultures with them, so we can share and learn from each other.
"We have to be more aware of other cultures and people to avoid being narrow-minded," he said.
Annika Behnke, a first-year accounting major at Marshall, said the festival highlights all the different cultures in Huntington which are too often overlooked by some residents.
Behnke participated in the Japan booth, where she helped teach people how to do origami, play Japanese games like kendama, wear traditional Japanese clothing called yakuta and learn about kendo, a traditional Japanese martial art descendant from swordsmanship.
Behnke said that it is important to learn about other cultures to grow personally while also allowing others to be more comfortable.
"I'm half Japanese and half American," Behnke said. "And I've personally experienced racism here at Marshall on several occasions."
A lot of people, even around here, experience racism normally, Behnke said, but most people are either too afraid or too uncomfortable to talk about it.
Behnke said people, in the past, have made racist jokes and inappropriate comments toward her regarding her race, and situations like these could be easily avoided by learning about different cultures instead of ignorantly buying into stereotypes.
A lot of times, people say things or have certain misunderstandings they believe are harmless, and they may not even know they could be damaging someone's self-esteem, Behnke said, highlighting the importance of local multicultural events like International Festival.
Although this was her first year attending, she plans on coming to the festival again next year, Behnke said.
"I'm definitely coming again," Behnke said. "You should come even if you don't know much about it. There's a ton of good food and amazing people, so it will always be a good time."
Douglas Harding can be contacted at [email protected]