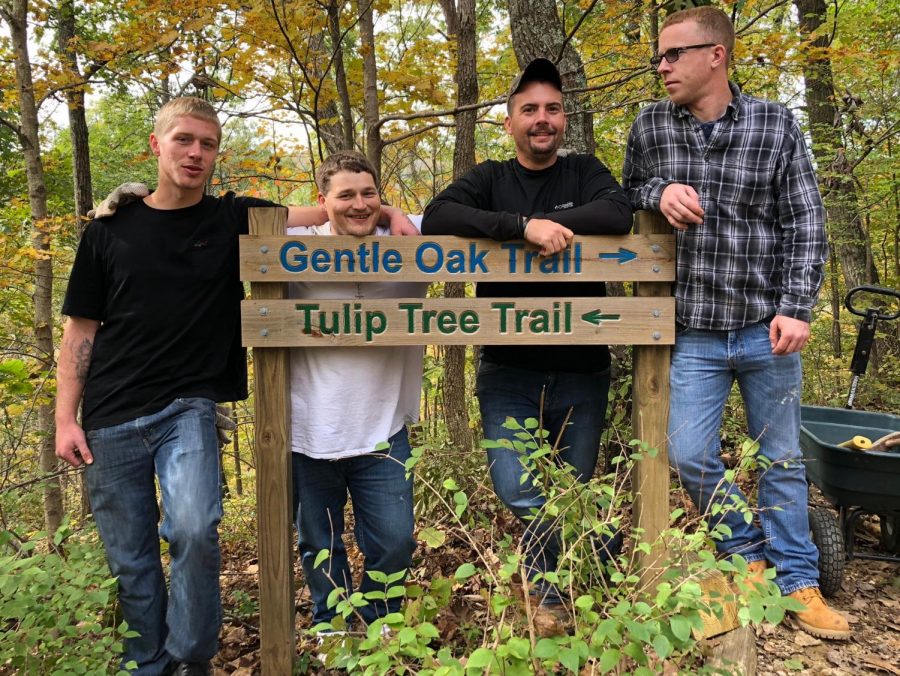 Douglas Harding
Recovery Point West Virginia participants volunteered to revitalize nature trails needing reparations and maintenance Thursday, Oct. 25 at the Huntington Museum of Art.
Volunteers worked from 10 a.m. to 4 p.m. on different trails performing maintenance tasks like fixing hiking steps, replacing water bars, building footbridges and adding edging to trails.
Recovery Point is a non-profit organization dedicated to promoting and ensuring recovery to communities by offering a long-term recovery program centered around learning and improving essential life skills and community involvement.
Jim Case, a docent at the Huntington Museum of Art, said the reparations to the trails would not be possible without the help of Recovery Point's volunteers.
"Without them, we'd be dead in the water," Case said.
Case said the reparations would benefit thousands of Huntington residents, including many students from Cabell County School and Marshall University, who use the trail every year for various school projects and research.
"The art museum is Huntington's best kept secret," Case said, "we had over 5,000 students come through these trails last year."
Tyler Webb, a volunteer from Recovery Point, helped replace and repair steps and various other aspects of the trails that had been weakened or destroyed after years of neglect.
Webb said he felt great to be able to get out and help the community, especially at a place like the art museum.
"I used to go to the art museum when I was a kid," Webb said, "it gives kids around here a chance to get out and do something different than normal."
Webb spoke about the importance of Recovery Point in providing those battling addiction a place to get their lives together and start working on making progress.
"Recovery Point is home," he said. "It's a place to get out of the madness for a bit, to get some tools under your belt, stay sober, and take some time to work on yourself and your life."
Recovery Point provides vital help for becoming active in the community and becoming a productive member of society, Webb said.
Webb said he felt the drug problem and the opioid epidemic are so bad in areas like Huntington because of a lack of good paying jobs and other outlets for the youth.
"There are almost no decent paying jobs," Webb said, "so people feel like they have to start selling drugs to supplement their income."
Webb said he grew up in the Tri-State area, and he has witnessed several peers and people close to him resort to going down a similar path in desperate need of money for food.
"Kids around here do whatever it takes for money to eat," Webb said. "I graduated high school with a 4.0 grade point average, and I still had to sell dope."
Local rehabilitation and drug treatment centers have been making significant progress, but there is still a lot of work to be done Webb said.
"I think we really just need more good paying jobs and for people to be accepting of those suffering from addiction or others they may not understand," he said.
Webb said he feels people need to understand those addicted to drugs or recovering from addiction are not bad people, simply people who have, at times, made bad decisions.
"Sometimes our minds can override what we would normally know is right," he said. "And it's just like you don't have any control."
Webb said it is nearly impossible for most recovering addicts, including himself, to get any sort of job, nevertheless one with decent pay or benefits.
"I can't even get a job at most fast food places," Webb said. "If you can't get food stamps and you can't get a job, what are you going to do? You have to find some way to eat."
Douglas Harding can be contacted at [email protected]