Huntington appreciated funk music during Funktafest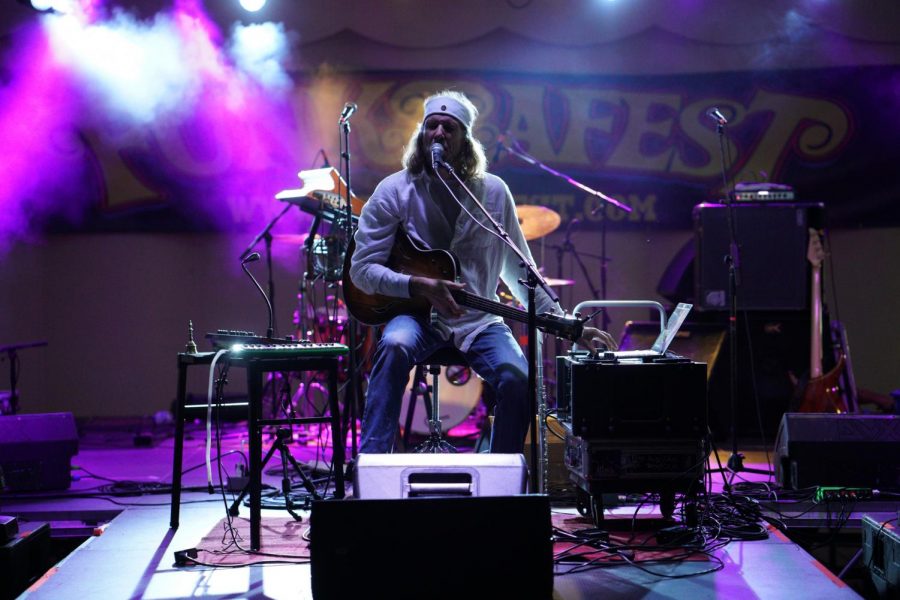 The city of Huntington moved and grooved during Funktafest Saturday, Sept. 29 at Ritter Park's Amphitheater. The crowd at all-day funk music festival hula hooped and danced, all while supporting local artists, musicians and businesses. All artists were from West Virginia and Kentucky, expect for two headliners, After Funk from Canada, and Marbin from Chicago, Illinois.
Jerry Smith, volunteer coordinator, said Funktafest creates a diverse entity for the music scene that supports everyone showing off his or her personality.
Funktafest is a wilder option with music and is more in your face," Smith said. "More shows around Huntington are reserved and emphasize singer-songwriter. But this encourages everyone to dress bright and wild and has hoopers and trooper fire breathers and of course good ole Funkle Sam."
Phil Tessis, guitarist for After Funk, said Funktafest allows his band to do what they love while having a good time.
"It's a great vibe, there's a lot of good bands and is a good time," Tessis said. "We like to bring the funk and get everybody dancing."
Smith said without the community coming together Funktafest would not be able to happen.
"All the musicians and volunteers coming together is so important, and it just shows how much everyone cares," Smith said.
Smith said it is hard to narrow down what he does not like about Funktafest because it offers an environment where everybody is individualistic, and nobody is judged.
"What's not to enjoy about Funktafest? It's a gathering of like minded people that want to come out and let their freak flag fly high and get you hyped," Smith said.
Caitlin Detamore, volunteer of Funktafest, said she is enamored being able to hoop outside with a group and come to the event every year.
"I love to come to events in Huntington especially outdoors because I get to hula hoop," Detamore said. "And there's a community of hoopers and flow artists that come here every year, and I'm happy I'm able to join them, because there's not many other people around here that hoop."
The festival supports local artists and musicians but also helps businesses gain exposure as well, Detamore said.
"Local businesses are able to get more publicity because all the sponsors who helped out are mentioned and their logos are displayed throughout the amphitheater," Detamore said.
Creator of Funktafest Perry Casto said the festival began as an idea between his band, The MFB, Shane Durham from The Beggars Clan and Colten Settle from The Settlement, and it then grew with an offer from Joe Troubetaris.
"We just wanted to have a gathering where people come together with funky minds and a chill attitude," Casto said. "And in this area before Funktafest there wasn't a real funkier, groovier music event, and this helps solidify and bring it all together. Though music wise Huntington is the strongest it's ever been, through the connectedness of all the different genres, it feels great to be able to add to it."
Casto said he created a persona with his band The MFB, called Funkle Sam, who now acts as a mascot for Funktafest but is characterized to spread love and make people joyful about America.
"I bought the costume for Funkle Sam at Magic Makers, and it was a steal of the century," Casto said. "Funkle Sam is a defender of the people and a freedom fighter. He defends truth, honor, integrity, everything that America should represent. He's love, loving your neighbor, loving yourself, loving each other and trying to make America better."
Casto said he hopes everyone walks away with satisfaction at the end of the day and excited for the event to resume next year.
"I really have fun putting this event together its like a big party, I like taking care of everyone from the artists, volunteers, sponsors and the festival goer and having them walk away with a smile on their face. So it's an entire experience for everybody," Casto said. Lilly Dyer
Lillie Bodie can be contacted at [email protected].