Ryan Taylor's journey to Herd basketball
More stories from By Malcolm Walton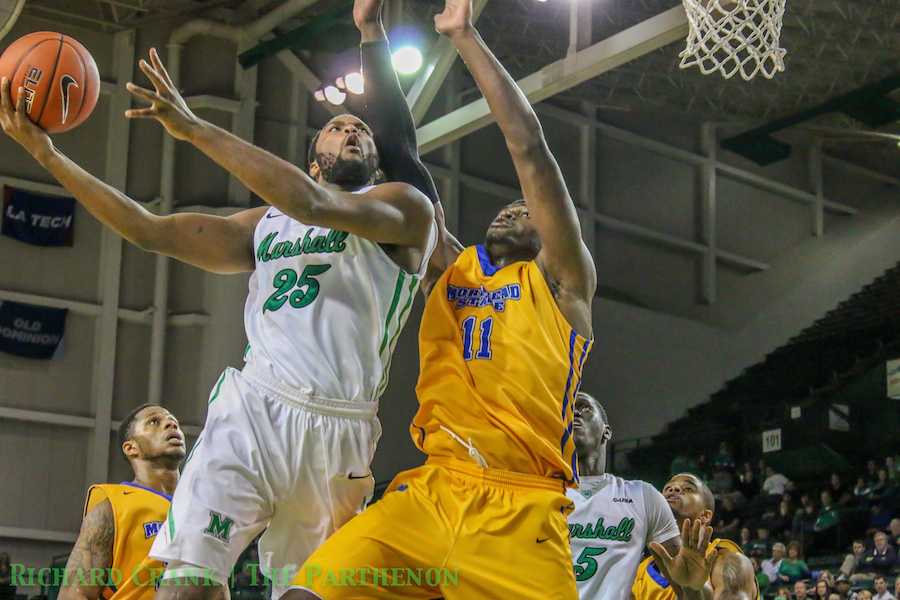 Ryan Taylor moved to Kentucky before his last year of high school after being born and raised in Indianapolis—the capital of arguably the most passionate basketball state in the country.
After an impressive senior season at Western High School in Louisville, Kentucky, Taylor was invited to play in the Kentucky versus Indiana All-Star Classic. Taylor relished the opportunity to show up his home state in the annual game that garners national attention and that is what he did.
"I had like 26 points, like eight rebounds," Taylor said. "I held my own against my home state. It felt good."
Taylor, who described his childhood neighborhood as an area "where your parents wanted you in at a certain time to avoid trouble," credits his grandfather for sparking his interest in the game of basketball at an early age.
"When I was young, I would just watch him play," Taylor said. "Ever since then I wanted to play basketball."
Taylor spent the 2011-2012 season at Hargrave Military Academy as a post-graduate student on the basketball team. Taylor said his head coach at Hargrave, former Marshall University basketball standout A.W. Hamilton, had a lot to do with his decision to join the Herd.
"
I try to keep a smile on my face and be thankful for another day"
— MU Forward Ryan Taylor
"He told me how Marshall had a great campus," Taylor said. "Not too big, not too small, it really had a lot to do with the classroom sizes. You'll probably only have one or two classes where there's like 50-plus students. Other than that, it's small classes which allows you to really focus on your education."
Hamilton played for the Thundering Herd basketball team from 2002 to 2005 and was the team leader in assists, steals and minutes played all three years.
Taylor made his way to Marshall, where he received an athletic scholarship and has established himself as a star player. Though they're 300 miles apart, Taylor and Hamilton still keep in touch.
"We talk mostly about his academics and him taking care of his body," Hamilton said.
Hamilton said he is very proud of what Taylor has accomplished thus far at Marshall, but he is not the least bit surprised.
"Ryan will go down as one of the all-time greats at Marshall," Hamilton said. "Ryan's toughness and work ethic on a daily basis is something I will never forget. He was a dream come true to coach."
Despite coming off of an impressive freshman season in which Taylor led the Herd in rebounds and finished second in scoring, the sports marketing major said his main objective is to receive a high-quality education.
Taylor said life in Huntington has been different compared to his upbringing in Indianapolis, but the slower-paced lifestyle has been beneficial to his education and his development on the court.
"There's not a lot to do, so it's easier to stay focused," Taylor said. "I usually just stay on campus."
While Taylor said he takes school and basketball very seriously, he admitted he does have a much lighter side and a funny personality few are aware of.
"I like to smile," Taylor said. "I'm just a happy dude. I try to keep a smile on my face and be thankful for another day."
On the court, however, Taylor is all business.
"What makes Ryan so special is his competitiveness and his heart," Hamilton said.
First-year Marshall assistant coach Chris Duhon said he sees something special in Taylor during his short time with the team.
"He's not the most vocal person," Duhon said. "But you can tell when he's on the floor, he has a presence. That's something you can't teach."
Duhon did not hesitate to say the team depends on Taylor's improved leadership this season.
"His ability to command a team and control a team is something that we're definitely going to need," Duhon said. "We're going to go as far as he takes us."
While Taylor has emerged as one of the top players in CUSA, he still speak with pride in his voice about his performance in the Kentucky versus Indiana All-Star Classic. For some players, it may have been an opportunity to impress the college scouts who were surely in attendance that day, but for Taylor, it was an opportunity to give his home state a final goodbye before he began his new journey.
Malcolm Walton can be contacted at [email protected]