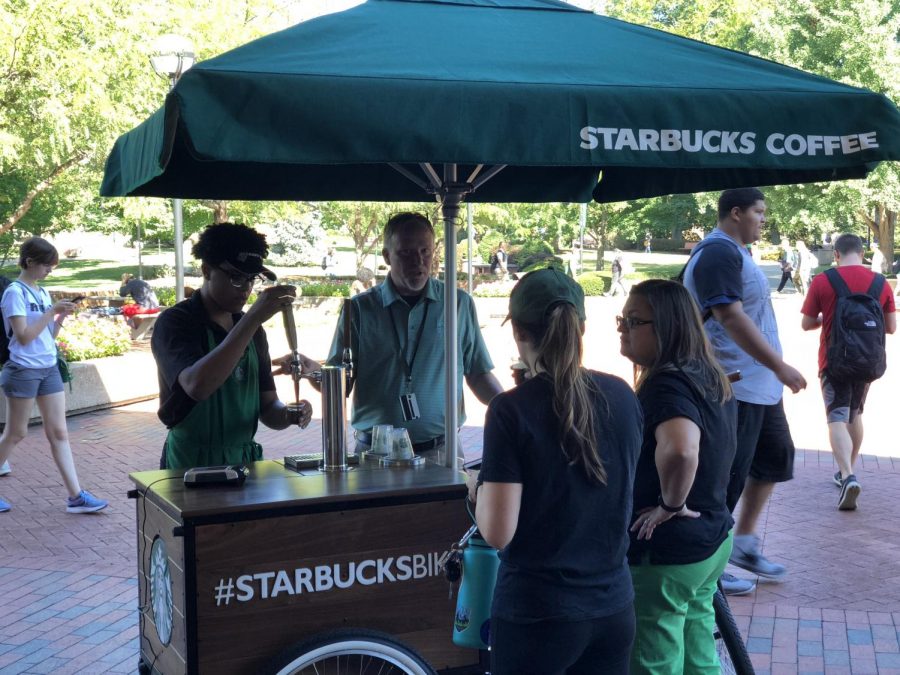 Franklin Norton
The Starbucks Bike took its first spin around Marshall University's campus and was revealed Sept. 14 on the Memorial Student Center Plaza.
The bike's operator was giving out free samples of Starbucks' nitro cold brew coffee.
"We will debut the bike sometime this week with a free tasting of our nitro cold brew tap system. It's going to be awesome," Ryan Zipperian, Marshall Dining by Sodexo unit marketing specialist, said.
The bike was to debut on Sept. 13, but Sodexo was informed of issues with the nitro hook-up.
"Nitrous isn't something you can walk off the street and buy," Cheryl King, Marshall Dining by Sodexo general manager, said.
The Starbucks Bike will be operating in the early fall and spring, as it cannot be operated in cold, winter temperatures.
The bike has on tap and two spouts for the nitro cold brew coffee, a Bluetooth speaker, an umbrella, three wheels for stability, a bag for cash transactions, a credit/debit card machine and a hashtag located on the side.
The bike will be taking cash, credit and debit. Eventually the bike will be able to take Marshall flex dollars.
"It's definitely a portable store," Zipperian said. "The bike is meant to dispense our cold brew through the tap system which is built into the bike. It is more like a food truck. The location will change week to week and weather permitting."
The bike will not be able to deliver to locations on campus.
"What we want students to know most about the bike is it's out, and watch for it around campus," King said.
The decision to purchase the Starbucks Bike was made by Marshall Dining by Sodexo and Marshall University.
Starbucks and other school dining services are operating bikes such as these on other campuses. The bike was not purchased with tuition dollars.
Gretchen Kalar can be contacted at [email protected]