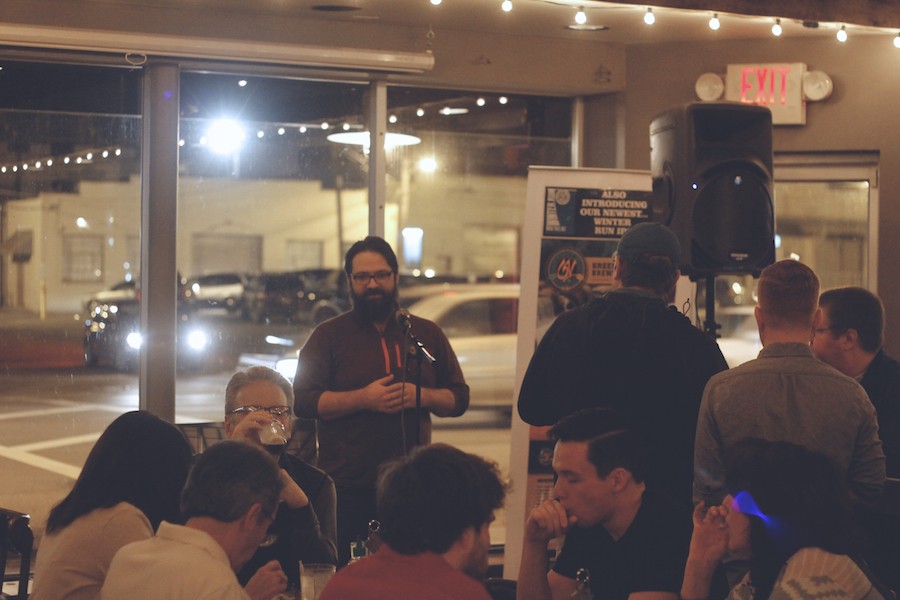 Andrea Steele
Brian Rymiller, head brewer for Greenbrier Valley Brewing Company, visited Black Sheep Burrito & Brews Monday night to introduce their new Winter Run IPA craft beer.
GVB also showcased potential food pairings to accompany the flavors of the beer followed by a question and answer session with Rymiller.
Rymiller said the Winter Run is an American IPA that showcases the hops flavor within the beer.
Located in Lewisburg, West Virginia, the newly established craft brewery serves two flagship beers throughout West Virginia along with seasonal beers.
GVB is the 11th craft brewery in the state and has been welcomed with open arms.
"It [feedback] has been amazing," Rymiller said. "People are super excited about local beer."
Greenbrier Valley Brewing Company uses a mash filter system that allows the grain to be ground into flour like substance allowing for 25 percent more efficiency from the product than a traditional system. It also uses 30-35 percent less water.
A homegrown brewery using local grains is something GVB is looking at for the future. However, the additional cost of sending the barley to the small craft malting company is keeping it from being able to use local grain.
"In today's market, craft beer connoisseurs are looking for what's new," Rymiller said. "In order to be competitive we have to be willing to try new techniques. People are more educated about beer and they know what to look for so you can't sell bad beer anymore."
The process of establishing a new flavor is a loose process for Rymiller. By being a part of the brewing community up and down the east coast, he has established relationships with people in the industry.
"I've been a brewer for almost 20 years, so I have a relationship with people in the industry," Rymiller said. "They will contact me with new hop flavors to try."
According to GVB, because there is a widespread market in West Virginia, the production of packaged beer allows them to reach a greater audience.
The introduction to their draft beer has been a slower process.
"Eighty percent of our profits are from packaged beer production," Crystal Bishop, director of marketing and sales, said. "The other 20 percent of sales comes from draft beer production."
Along with Black Sheep, Greenbrier Valley Brewing Company's three current beers are being sold at Davis' Place, The Union, Huntington Ale House, Hanks 4th Ave and Evolve.
Tours of GVB are unavailable while the tasting center of their facility is under construction.
They hope to begin tours and tastings by March.
Kelsie Lively can be contacted at [email protected]