DIY art is celebrated in the Huntington community
Hang on for a minute...we're trying to find some more stories you might like.
This Saturday, the third annual Heck Yeah Fest was held at the V Club in Huntington. Heck Yeah Fest is an all-day music festival lasting from 2 p.m. to 2 a.m. where bands performed and art vendors, such as illustrators, photographers, painters, crafters and tattoo artists, were set up.
"Heck Yeah Fest gives an outlet to people who illustrate, paint, or photograph something different or considered outsider art," Zac White, creator of Heck Yeah Fest, said.
Inspired by the passion of a community art wall displayed at the Huntington Music and Arts Festival, White initiated the creation of Heck Yeah Fest.
"This inspired me since it allowed people to hang their work for people to see it, rather than it sit in a closet," White said.
The festival helps people who individually like to create and stay productive in creating art.
"It's therapeutic and inspiring, and you meet people under the same ideology, to connect and make friends," White said.
One of the art vendors, Decayed Desires, makes jewelry and hand embroidery from animal bones found in West Virginia that are all ethically sourced, even down to insects utilized in resin for jewelry stones.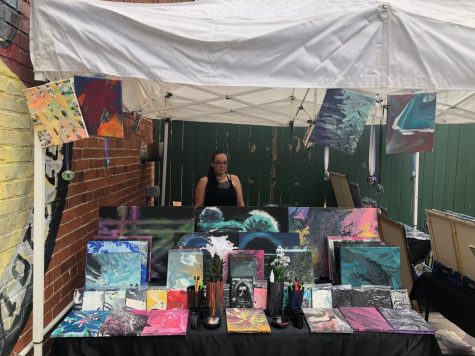 Lillie Bodie
"I do this because it allows me to express myself and it's relaxing," Neva Dodrill, Decayed Desires owner, said.
The all-day event helps support the Huntington community while creating a networking of all medians of art.
"Heck Yeah Fest introduces people to a lot of things they may not be aware of and gives people the opportunity to buy things that aren't from a department store, while helping people within their community pay their bills," Dodrill said.
Aside from showcasing their work, artists are able to educate people of all ages.
"A little girl came by the booth full of questions asking, 'why, why?' and it was great being able to explain to her how I create my jewelry," Dodrill said.
Dane York, member of the band Waxjaw, said, "The DIY scene is all about doing it yourself and that's what Heck Yeah Fest stands for."
The festival allows artists who dedicate most of their time for their art to have a space to display for an audience.
"Doing this at a DIY level music or your art has to be your devotion, as music is my rock," York said.
The open spaces acknowledge the vendors' hard work and talent. Huntington's art scene has grown more diverse over time and now allows opportunities for all genres.
"There's a little bit of everything in Huntington's music scene, from folk, indie, pop and heavy metal, and there's a lot to offer," York said.
Heck Yeah Fest hopes to continue to grow with the help of the community and local businesses to sponsor in upcoming years.
Lillie Bodie can be contacted at [email protected]