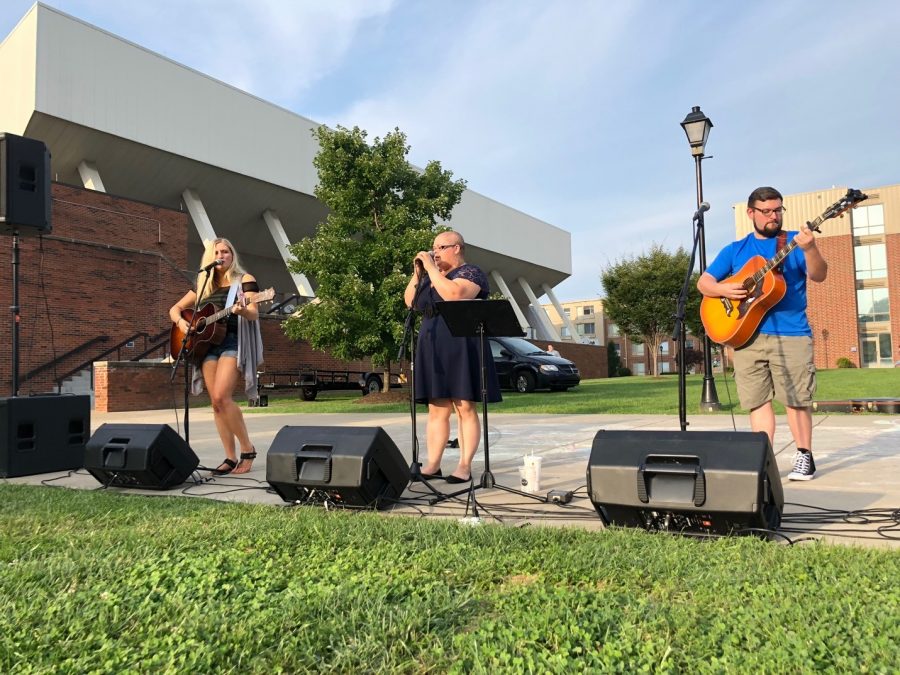 Douglas Harding
Marshall University students learned about their community through local artists and vendors at Taste of Huntington, all while celebrating and getting to know each other, said Raul Moreno, the president of Campus Activities Board.
"Our aim with this event is to get students to become familiar with Huntington and its people," Moreno said. "So many students come here and spend years at Marshall not taking advantage of everything the town has to offer."
Only last school year did the Campus Activities Board decide to officially add Taste of Huntington to the Week of Welcome schedule, Moreno said.
"Taste of Huntington actually started last year as a trial run, but we ended up with a really good turn out, so we decided to bring it back this year," Moreno said, adding that having a large variety of activities available for students was a focus point.
The event also helps to boost both Huntington and Marshall's reputations alike, Moreno said, because as more people come and tell or even bring their friends, more people will experience the town and love it.
"Additionally, Huntington has really been building up its small, local businesses, and what better way to promote them than to have them come on campus?" Moreno said.
Students who attended the event Friday evening seemed to largely solidify these hopes and ideas, as exemplified by one senior student who said that this was her favorite Week of Welcome event she attended this year.
"I've had such a good time," Sierra Kelley said. "I would recommend this event to anyone as a way to find the best places to eat around here."
Another student who said he was intrigued by the food and excited to try more was sophomore Hayden Simile. He said he always tries to stop at special events like these are because they are interesting, and they make him feel good about his decision to come to Marshall.
"I was just walking by, and I saw the cute kangaroos and the other animals at the petting zoo, and I had to stop by," Simile said.
It was the petting zoo as well that made the event special for Nicolas Herrick, a first-year student majoring in digital forensics.
Herrick also said he had been thoroughly enjoying himself at Taste of Huntington.
"It feels much more like a festival than some of the other Week of Welcome events," Herrick said.
The petting zoo allowed students to interact with animals such as a sheep, a goat, an alpaca, a camel, a kangaroo and a tortoise.
Live music at the event was performed by local band Holly and the Guy and local musician Emmy Davis.
In addition to local food vendors like The Twisted Taco and Austin's Homemade Ice Cream, there were also local hand crafted goods and apparel from various local vendors such as Michelle's Geekery.
Students were also presented with different valuable opportunities for services and volunteering by groups like Big Brothers Big Sisters of the Tri State, Healthy Families America and No Cancer Alley in Ohio River Valley.
Douglas Harding can be contacted at [email protected]