Huntington prepares for flooding by raising flood gates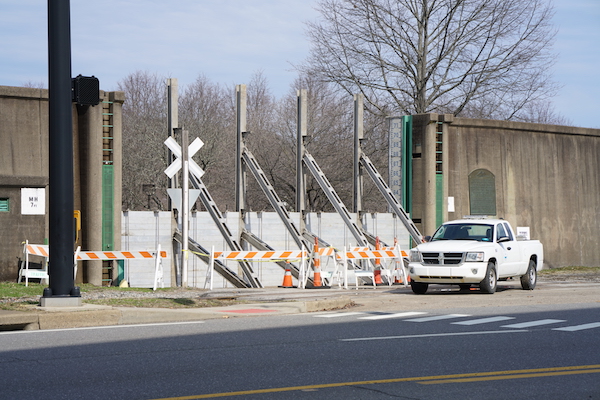 Advertisement
Hang on for a minute...we're trying to find some more stories you might like.
Officials from the city of Huntington made the decision to raise the flood walls downtown for the first time since 2011. The Ohio River crested Monday afternoon at approximately 53 feet, the highest level it has been in several years. The officials made the decision for the sake of the safety of the city and its citizens and are expected to take down the flood walls Wednesday when the river settles back to its normal height.
The Ohio River usually maintains a height of 25 feet, meaning that the recent rainfall has nearly doubled the depth of the river. The river is not expected to reach the wall, but nonetheless the flood wall was put up as a precaution due to the chance of rain both locally and upriver.
Bryan Chambers, the city of Huntington's Director of Communications, said that the decision was made to put up the floodwall early last week.
"The storm water board needed to make a decision early so that we could make all of the proper arrangements to have the wall put up this week," Chambers said. "Even though it's not expected to reach the wall, if there's a possibility that it might, then this decision is a necessity, I believe."
The park will not be open for public use for as long as the flood walls remain in place. Although not expected to reach the wall, the water had covered most of the riverfront area by Monday afternoon.
The riverfront area was structured in a way that allows for high waters in that area.
"Most of the facilities on the riverfront are built and maintained in such a way that allows for easy clean-up and easy maintenance after high waters like this," Chambers said. "It allows for easy turnaround after this kind of weather so that the park becomes usable again."
The flood walls currently are only raised halfway because the estimated water level height is only 53 feet, but Chambers said that the city is on standby in case of sudden rainfall if the walls need to be fully assembled.
This is the first time in six years that the flood walls have been assembled, and they are currently in place at the 10th and 12th Street entrances of Harris Riverfront Park, meaning that access into the park is currently prohibited.
Zach Stevens can be contacted at [email protected]