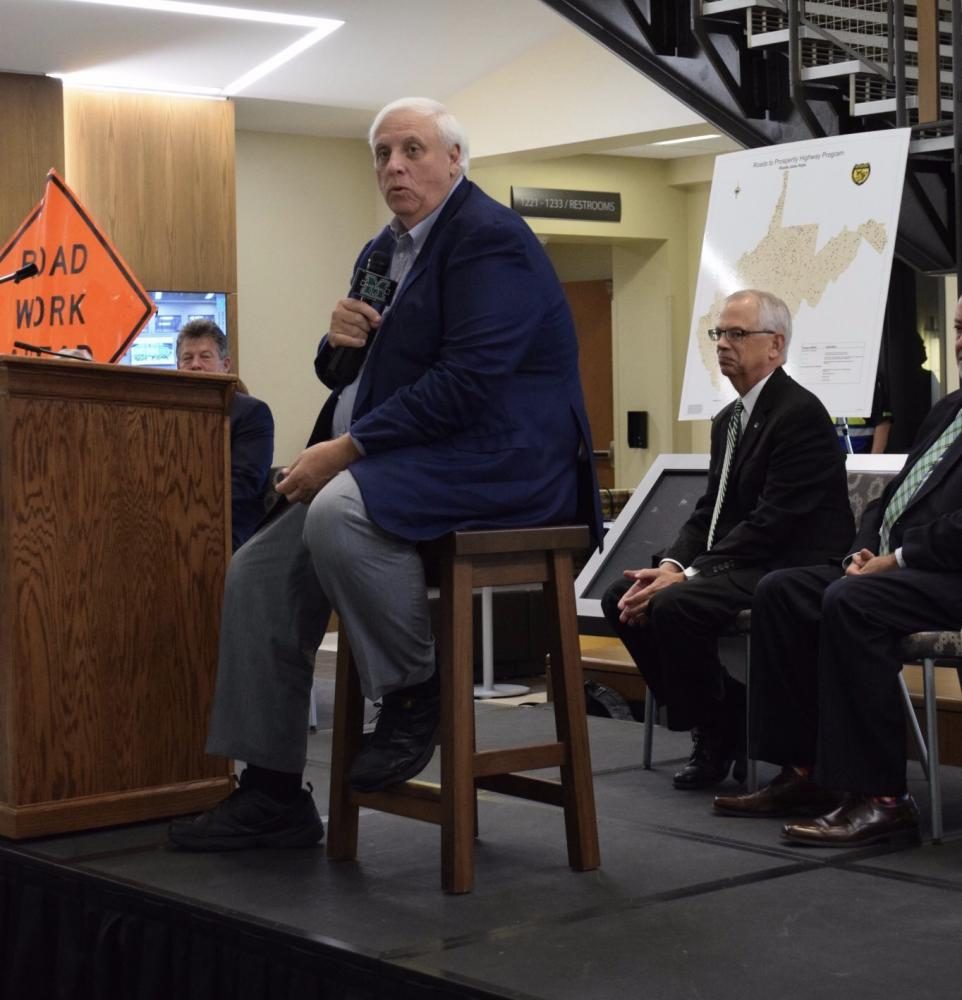 Nancy Peyton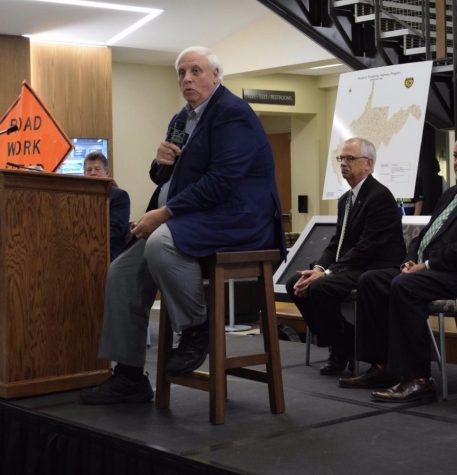 "The opportunity for jobs, beyond belief, is right at our finger tips," Gov. Jim Justice told a room of Marshall students and officials Wednesday during a town hall focused on his proposed Road Bond Referendum.
Jobs were only one of the potential benefits of the referendum the governor touched on during the town hall, where he promoted and addressed criticisms concerning the proposed legislation. This past June Justice scheduled a special election to take place Oct. 7 for West Virginians to vote on the referendum, which would permit the state to sell bonds in order to fund the $3 million infrastructure project. Justice said there are around 500 different road projects in the works across the state.
This town hall visit served as more of an informative speech from both Secretary of Transportation Tom Smith and the governor himself. Justice spent a majority of his time dispelling any worries or rumors that West Virginians may have about the proposed road bond causing any rise in taxes.
"You will not have to pay one more cent in taxes in any way, shape, form or fashion," Justice said.
A bill passed in June raised fees and taxes on different transportation services, such as the wholesale of gasoline and DMV fees. This money will help pay off the annual debt from the bonds.
Justice promised the audience that the referendum will not only bring jobs back but will fix the roads that have been damaging vehicles for too long. Additionally, Smith reassured voters that infrastructure improvements would be accompanied by safety improvements and used the expansion of two-lane roads into four-lane highways as an example of an improvement that could result in less accidents for drivers.
The governor said the Road Bond Referendum is also another attempt to encourage engineering students to work with the state once they graduate. Justice and Smith made this pitch to Marshall engineering students during their first visit in March as the Justice administration was determining their route of action for bettering the state's infrastructure.
If the project does pass, the Justice administration said it could create about 40,000 jobs. Many Republicans in Charleston have publically opposed the idea. This comes only a month after Justice switched parties from Democrat to Republican and said he had been let down by the Democratic party and believed he could get more done as a Republican.
Tom Jenkins can be contacted at [email protected]