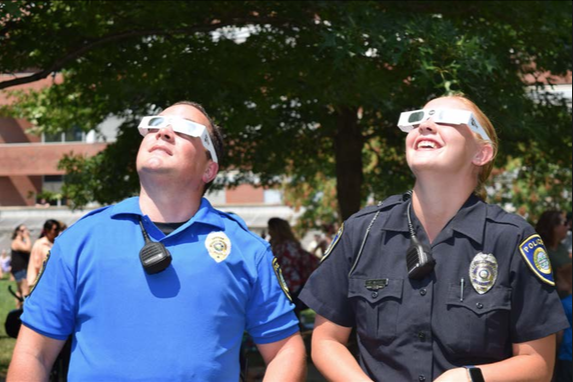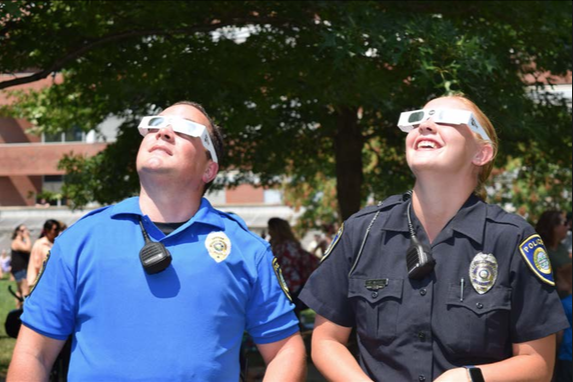 36,135 days later, it happened again, and everyone ended their day with a story to tell.
A total eclipse of the sun visible from almost anywhere in the continental U.S. occurred Aug. 21, the first this scale since 1918.
Dr. Sean McBride, assistant professor with the Department of Physics at Marshall University, was an organizer for the solar eclipse viewing event on Marshall's campus.
In collaboration with West Virginia Science Adventures, the College of Science set up telescopes and distributed eclipse viewing glasses, which allowed hundreds of students and community members to view the partial eclipse over West Virginia.
For months, the eclipse had been predicted down to the second, thanks to the physics studies.
"If events like the eclipse spark interest and awe in you, we have classes where you can learn about these things," McBride said.
McBride urges interested students to speak with advisors in the Physics Department for more information. He said, "it's only four classes for a physics minor here."
The partial solar eclipse over West Virginia lasted from 1:08 p.m.-3:57 p.m., peaking at 2:35 p.m.
"You weren't really thinking about politics or anything else at that point in time," McBride said. "You were just focused on what was happening at the moment."
The next solar eclipse will be in 2024, and will follow a North to South path.
"It won't go coast to coast, but it will at least cross a path of the continental United States," said McBride.
Before the eclipse arrived, NASA released a statement with the message: No Child Left Inside. It was in response to Illinois schools stating they would close school the day of the eclipse. The statement was also forwarded to educators across West Virginia who were encouraged to, "observe the sun safely" with their students, but also to "enjoy this amazing experience."
Dr. Jon Saken, assistant professor of physics at Marshall, travelled to Illinois with a team of Marshall students to witness the eclipse.
Operating out of his parents' home in Illinois, which was on the centerline of the eclipse path, Saken's team launched several balloons into the air to observe and record the eclipse.
Saken's team of students was the only team at the event from West Virginia. They were one of fifty-five, including a team from Puerto Rico, to participate in the Montana Space Grant hosted event. The West Virginia Space Grant sponsored and paid for the Marshall team's travel expenses.
Saken's team left Illinois as owners of the balloons they had used at the event thanks to the West Virginia Space Grant. The newly acquired equipment lead the physics department to initiate a balloon program, which will allow students to build a payload, attach them and launch.
"We plan to fly again for the next eclipse (2024)." said Saken. "We've gone as high as 110,000 feet."
Saken said the goal of the event was education and outreach. "Involvement is open to any student at Marshall," Saken said. "If they're interested in working with us, I'd be happy to have them come join the team."
Before the West Virginians could leave Illinois, they first had to recover their balloon, but the roads were heavily trafficked. However, when they were ready to recover their equipment, there was a problem.
"It took an hour to go five miles," Saken said. "We suddenly see on the tracker that it's moving. Somebody picked it up."
The family who recovered the balloon was taking it home to Indiana with them. They got halfway there before Saken and his team were able to catch up and reclaim the balloon.
Dr. Richard Garnett, associate professor in the Department of Sociology & Anthropology, who opted to stay inside during the eclipse, had his own take on the phenomenon, calling it a "craze," where lots of people are focused on the same thing at once.
"Events like these have a tendency to bring people together with more of a sense of solidarity," Garnett said. "With all of the violence and political squabble going on, one of the things I noticed was reports of people putting aside their differences for a day."
Dr. Marty Laubach, associate professor and chair of the Department of Anthropology and Sociology, traveled from West Virginia, where only a partial eclipse was visible, to an area in Tennessee where he was able to witness a total eclipse.
At a rest stop along I-40 between Nashville and Knoxville, Laubach encountered some of the millions who had traveled to be within the area of total eclipse.
"I met a family from England. They had come all the way just to see the eclipse," Laubach said.
As Laubach headed home to West Virginia, he was ensnared in a traffic jam that lasted over four hours.
Laubach's navigation system instructed him to leave I-77 and take a back-road shortcut that would have shaved off ten minutes from his travel time, had thousands of other travelers not followed the same navigational instructions.
"Science produced the wonderful predictions that you could be there for those two-and-a-half minutes as the sun was eclipsed," Laubach said, "but it also produced that traffic disaster for those small towns."
The next solar eclipse will occur on April 8, 2024, which is also a presidential election year in the U.S.
"At least for one day, people were more concerned about sharing this experience than they were about what the President tweeted at four o'clock in the morning," Garnett said.
Sebastian Morris can be contacted at [email protected]