Editorial: W.Va. budget puts education on back burner
Hang on for a minute...we're trying to find some more stories you might like.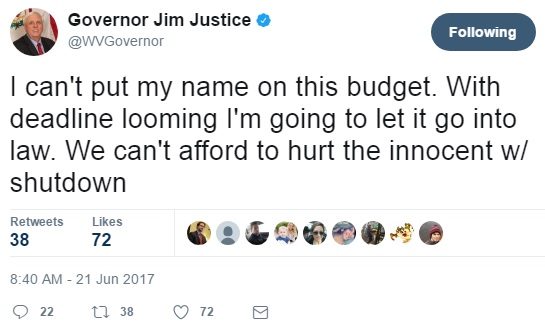 Months after the regular session of the West Virginia Legislature came to a close, a budget bill for the upcoming fiscal year will finally go into law.
Gov. Jim Justice, however, announced Wednesday he will not sign the bill. He said he could not bear the idea of putting his name on the bill passed by the House and Senate Monday, but that he would let it become law because of the looming deadline to avoid a government shutdown.
"I really hate this," Justice said. "I really do. I didn't want us to hurt people more."
This statement came in response to the $16 million across the board cuts to higher education in the mountain state, as well as cuts to funding for tourism, fairs and festivals and state-promoted arts programs.
It's a sad time in West Virginia, the state where studies have said students have less access to higher education than anywhere else in the United States.
The weight of these cuts will not go unnoticed by students who already have to work multiple jobs to afford tuition that will only continue to increase. It will not go unnoticed by the students who are not able to attend college because, despite how many scholarships they receive for their merits, they simply cannot afford to enroll in any schools here.
With the sting of the cuts to education still fresh, students will also suffer due to the cuts to valuable education tools.
Culture and History's personal services line-item, with the money used for payroll and benefits, will be cut about 12 percent. Lottery funding for various Culture and History program grants will be cut by nearly $1 million, or about 20 percent.
Historic-preservation grants and Preservation West Virginia will each lose about $100,000.
Funding for fairs and festivals around the state will receive a cut of over $300,000.
Funding for various competitive arts grants will be cut by $146,000. Likewise, funding for a number of theaters and symphonies around the state will be cut by 20 percent.
West Virginia is a state that prides itself for the rich culture, beauty in the mountains and for the talents of the people here. But, how will anyone be able to see these things if the government continues to cut the budgets for the programs down to nothing?
Students in this area already have a number of obstacles in their ways when trying to receive a worthwhile education. The government of our state, who tout publically that they're looking out for the best interest of future generations, has become the biggest obstacle of all.