Jerry Gilbert: President and friend of Marshall University
Advertisement
Hang on for a minute...we're trying to find some more stories you might like.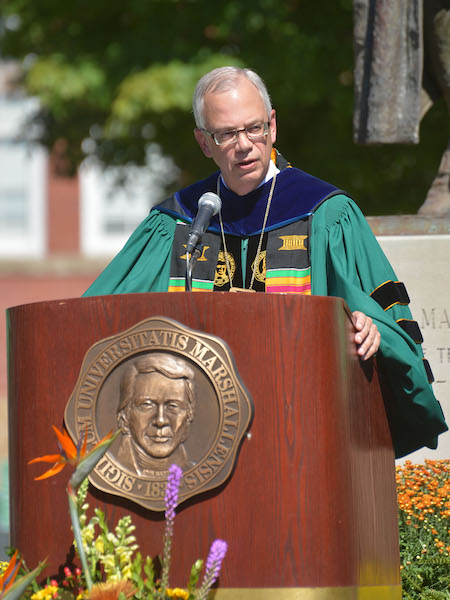 Jerry Gilbert, a Mississippi native and a Mississippi State University alumnus, is not just an administrator and an academic pioneer, he is also an advocate for students and a friend of Marshall University.
Gilbert came from very humble beginnings. Growing up in Jackson, Mississippi, he described his childhood as being "very idyllic." He described how he and his friends would spend all day outside during the summertime, only to break for lunch and dinner.
"I had a lot of friends, and we did a lot of outdoor activities," Gilbert said. "I just had a tremendous experience, I had a very loving family and always felt very secure."
Gilbert grew up in the era of Jim Crow, where state and local laws enforced racial segregation in the Southern United States.
"There was a lack of knowledge of the culture and what it was like to be a person other than your own race because of the separation from the Jim Crow laws of the time," Gilbert said.
After the Jim Crow laws were repealed and integration was enforced, Gilbert said many of the myths about people of other races that were created by the political structure in the South were proven to be untrue.
"It was a tremendous eye-opening experience for many of us to learn that there were no real differences between people based on race," Gilbert said. "It was a road to Damascus type of experience where you see things very differently, and that was the case for many of us in my generation. Our eyes were opened and things changed for the better in the South."
Gilbert said he believes that seeing the injustice firsthand in the past as a child influences the decisions he makes now as Marshall president. It encourages him to make sure everyone has an equal opportunity at Marshall.
"It goes back to those experiences I had as a kid where I saw the pitfalls and the ugliness and the hatred that was part of inequality," Gilbert said. "It solidified my views and my core values about equality and how you should treat people, it had an impact on me in terms of my strong commitment to equal rights and to making opportunities available for everyone."
Even though Gilbert has spent a life in academia, that wasn't what he had pictured as a career path. As a child in elementary school, Gilbert pictured himself working with his father.
As a small business owner, Gilbert's father operated a small woodturning factory where he made leg chairs and other products.
As Gilbert went through school, he then started to believe he was geared towards a career in the sciences rather than in furniture. In high school, he thought he may want to become a veterinarian due to his love for animals and the outdoors. He also toyed with the idea of potentially going to medical school.
During a visit home one weekend, Gilbert's brother, a chemical engineering student at Mississippi State University, told him the university was going to offer a new program called biological engineering. With this new option in mind, Gilbert continued his high school career by focusing on his science classes.
During his senior year of high school, Gilbert visited West Virginia for the first time when he attended the National Youth Science Camp for a month of science in the mountains. He was able to meet and learn from astronauts, scientists from major corporations and college professors.
"I was around some really bright kids that were interested in science and that really solidified my view that I wanted to do something in science. I thought 'I can do science just like these other kids.' I just had such a great experience in the outdoors in West Virginia and the science camp was just amazing to me," Gilbert said.
Gilbert also had the opportunity to meet West Virginia sens. Robert Byrd and Jennings Randolph who made lasting impressions on Gilbert regarding the Mountain State.
"That impression was that they cared about young people and they cared about our future. They cared enough to bring us all to their state to give us an opportunity," Gilbert said.
This was the first time Gilbert had visited West Virginia, a state he knew little about prior to his time at summer camp.
"Having spent a summer in West Virginia left me thinking that they are a very compassionate state, a very forward thinking state and one that I will always be indebted to for solidifying my views about my career and going forward," Gilbert said.
After being reassured that he wanted to go into the field of science, Gilbert went to Mississippi State to study biological engineering, the very program that his brother had told him about.
"Throughout most of my adult life as an engineer in academics I had to explain what biological engineering was because most people didn't understand what it was," Gilbert said. "It was an exciting time to be a biomedical engineer, and it is today, but back then you were a little bit more of a pioneer and had some really interesting experiences."
Gilbert graduated with a bachelor's degree in biological engineering from Mississippi State in 1977. Gilbert then went on to earn a doctorate in biomedical engineering from Duke University.
During the 1980s, Gilbert worked as a professor of engineering at North Carolina State before accepting a faculty position at Mississippi State in 1988 where he was a professor and conducted research in orthopedic surgery. He also led the Department of Agricultural Biological Engineering before becoming a provost of Mississippi State in 2010, where he served as executive vice president.
Gilbert recently returned to Mississippi State where he was honored as a Distinguished Engineering Fellow by the Bagley College of Engineering at Mississippi State.
"It was a real treat to go back and to have that recognition as an alumnus and it was a huge honor for me," Gilbert said. "I got to see a lot of my old colleagues and friends and it was a great experience for me to be back on campus and to see how things had changed."
Senior Vice President of Communications Ginny Painter said Gilbert is not only an administrator, but a scholar as well.
"To have our president recognized for his scholarly accomplishment is just really special for the whole Marshall community," Painter said.
Gilbert became the president of Marshall just over a year ago in January of 2016 and said we "have a jewel" in Marshall.
"One of my biggest challenges is to make everyone realize that we have some opportunities at Marshall that are very special, and that we have a university that could achieve additional greatness," Gilbert said.
Some of his goals for the future include increasing the enrollment to Marshall, increasing research and helping advance the state of West Virginia in terms of economic development.
Gilbert plans to bring in a colleague next month to help connect Marshall to industry and businesses within the state.
"I think he's going to have a lot to say to help our leaders and the folks at Marshall understand what great potential we have at Marshall in helping attract industry to our region," Gilbert said.
"I want the students to realize that I understand the challenges that they have and I want to be an advocate for them," Gilbert said. "I will always be thinking about what I can do to improve the education at Marshall so that when they leave they will feel prepared and when they look back at their university they'll be proud of what we're doing and what we stand for."
Gilbert said he wants to be sure he stays connected to the students here at Marshall by interacting with them. Gilbert did so by starting a book club with the Yeager Scholars and by teaching a freshman UNI 100 class, which he plans to teach again next fall.
"What the university is about is our students and there's no question about that," Gilbert said. "I think it's important for a president to remain connected to the students as much as possible because we never want to lose sight that our primary mission is to educate young people."
Those who follow Gilbert on Twitter know he will sometimes take selfies with students.
"It's a way for me to reach out to students and I enjoy doing it," Gilbert said. "As often as they'll come up to me I'll take pictures with them, I enjoy it because I think it's a great connection with people."

Adam Stephens can be contacted at [email protected]