'We got it from Here… Thank You 4 Your Service': An Informal Album Review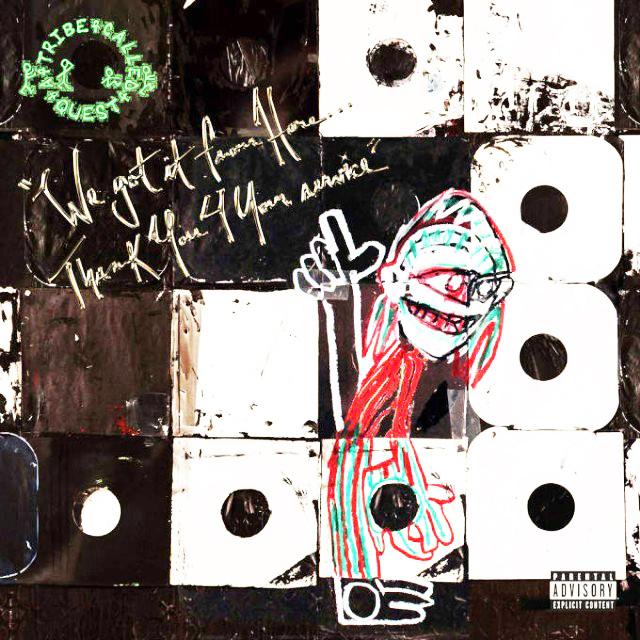 A Tribe Called Quest has been seemingly revived from their hibernation, and have blasted their way into the mainstream charts with a blend of their classic style, and contributions from some of the hottest acts today has to offer.
"We got it from Here… Thank You 4 Your service" is ATCQ's final album, and wraps up their legacy in a package that isn't presented as something purely nostalgic. The album opens with the track "The Space Program", which wraps up with a few sampled soundbites, the most apparent being from "Willy Wonka & the Chocolate Factory;" an Oompa Loompa sings "oompa, loompa, doompadee doo, I've got another puzzle for you." Right off the bat, this sample tells listeners what is in store for them, a musical puzzle presented by the likes of Q-Tip, Jarobi White, and the late, great, Phife Dawg, the five-foot assassin.
Right off the bat, I think it's important to stress that the album isn't all about missing Phifer, or mourning his loss. Although ATCQ's live performances on SNL centered around the loss of Malik Izaak Taylor, or Phife Dawg, it is apparent that Q-Tip and White are using "We got it from Here…" as a way to remember the Five Foot Assassin's live, and incredible contributions to hip hop music; Phife is a legend. I mean, just look at this line
"How's about that, it seems like it's my turn again/all through the years my mic has been my best friend/I know some brothers wonder, can Phife really kick it?/Some even wanna dis me, but why sweat it?"
The album stands strong. It's a two-parter, with each part, boasting eight tracks each, featuring the likes of Elton John, Andre 3000, Kanye West, Anderson .Paak and Kendrick Lamar, among others. The sounds and vibes of the album are orchestrated perfectly. There are parts of ATCQ's past albums all up in "We got it from Here…", and it isn't overplayed, or like previously stated, focusing too much on a nostalgic aspect.
To me, this album is an open letter to America. "There ain't a space program for n****s/you stuck here n****," automatically paints a portrait of Q-Tip's view of America and the opportunities for black Americans. The album ends with "The Donald." While the track's lyrics don't necessarily relate back to the election (Rap Genius states that the track is all for Phife, as a memorial of sorts), anyone with a brain could look at it metaphorically; the last track, on the last album – maybe ATCQ is saying that Donald Trump is going to be the end of everything. Maybe. Just saying.
All in all, you're doing yourself a disservice if you don't check out this album. And if you don't listen to ATCQ, what are you listening to? Take a break, throw on your headphones and listen to the final album from a group all of your favorite rappers owe a lot to.
Will Izzo can be contacted at [email protected].
Leave a Comment
Your donation will help continue the work of independent student journalism at Marshall University. If you benefit from The Parthenon's free content, please consider making a donation.