Meet an INTO Marshall Student: Erwin Ortega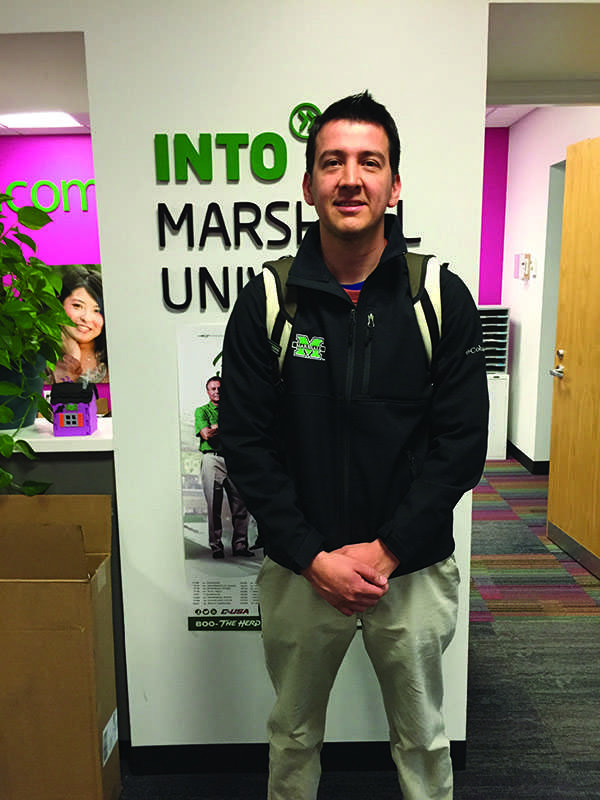 Jared Casto, Reporter
November 19, 2014
Erwin Santana Ortega is a high school physics teacher from Mexico who is at Marshall University as a part of the Proyecta 100,000 program. This program aims to have 100,000 Mexican students study in the United States by 2018. Having been in America a decade ago as a part of a high school foreign exchange program, Ortega has adapted to America well. Still, he finds Marshall University and the university experience to be different, mostly because of the amenities offered here that are not offered at public schools in Mexico. In his free time, Ortega enjoys playing basketball with his friends and riding motorcycles. After completing the Proyecta 100,000 program, he is considering returning to Marshall to work towards his Masters or Ph.D.
Q: How long have you been in America?
A: I have been here for nearly ten days. I still have four more weeks to go. Our program is a five-week program.
Q: Can you explain the program you're involved in?
A: In our country, it's called Proyecta 100,000, and what our government is trying to do is send some students and teachers to study in the states to improve their English skills. So, that's pretty much what it is.
Q: So far, how have you adapted to America?
A: I have been here before. I was actually an exchange student ten years ago in a high school up in the state of Ohio… I spent a whole year over there, and that was a whole new experience. And this one is a little different. I had never been in a U.S. college, which I am enjoying very much. There's so many things to do. I find it very enjoyable.
Q: How have you liked Marshall University so far?
A: I like it very much so far. I didn't know that you guys had all this kind of stuff inside the university. I didn't know there were these types of cafeterias. It's so different. And the Rec Center, it's just not what I am used to in our public schools down in Mexico. So far, I've had a great time.
Q: What are your plans after you finish this program?
A: There are a 160 students and teachers here. Some are students and some are teachers. When this program ends, we're going back to our regular lives, but some of us might be thinking of getting a degree here at this school. Which would be a good thing. So, we're looking through all of the majors that you have and probably coming back someday and getting a Masters or a Ph.D.
Q: How have you kept in touch with your family so far?
A: I'm married now, so what I miss the most is my wife. I miss my parents, too, and my brothers. But now I live with my wife. We have no kids. I still miss her very much. We keep in touch with the Internet, pretty much. When I got here safe and sound to the Dayton airport, I called her on the phone just to let her know that I was doing okay. After that, I haven't called home on a regular cell phone or an actual home phone. All I do is get on the Internet and probably go to Skype or WhatsApp… Using the Internet is a lot cheaper.
Q: What has been your favorite experience so far?
A: My favorite experience so far is just having everything on campus. Like, I don't have to worry to drive or take the bus to practice some basketball or to jog for a little bit or to lift some weights. So, I'll just go walk to the Rec Center, which is pretty close. I don't have to worry about buying food or walking to places to buy food. All that kind of stuff is inside campus. That's what I find fascinating. Other than that, the classrooms are pretty neat. We don't have that kind of infrastructure in the classrooms in Mexico. I am a physics teacher in high school and we pretty much lack a lot of things. And I dream of the day when I have some of the things you have here at Marshall.
Q: What are you looking forward to doing in the next few weeks?
A: Actually, today I went to visit a high school and meet with a physics teacher just to share some ideas and see what you guys are doing up here, and see how we're doing with our education system. So, I enjoyed that very much. Changing the subject, I would also like to ride the train. I'm looking forward to going to Chicago for Thanksgiving. So, finally I'm going to ride a train, which I have never done.
Q: Do you have any hobbies or interests?
A: I like playing basketball. We're doing some basketball everyday with my friends from Mexico. I also enjoy motorcycle riding. I haven't seen much of that because it's just not the right time. It's too cold for motorcycle riding.
Q: Is there anything else you'd like everyone to know about you?
A: I just want to let the Mexican community know that Marshall is a good opportunity. It's a great school. I never knew that there was a university called Marshall. Now that I know of this university, I find it very good. Like I said before, I might be coming back for a Masters or a Ph.D at a later time.