Getting to know Matt Jarvis, Marshall's new student body president
Hang on for a minute...we're trying to find some more stories you might like.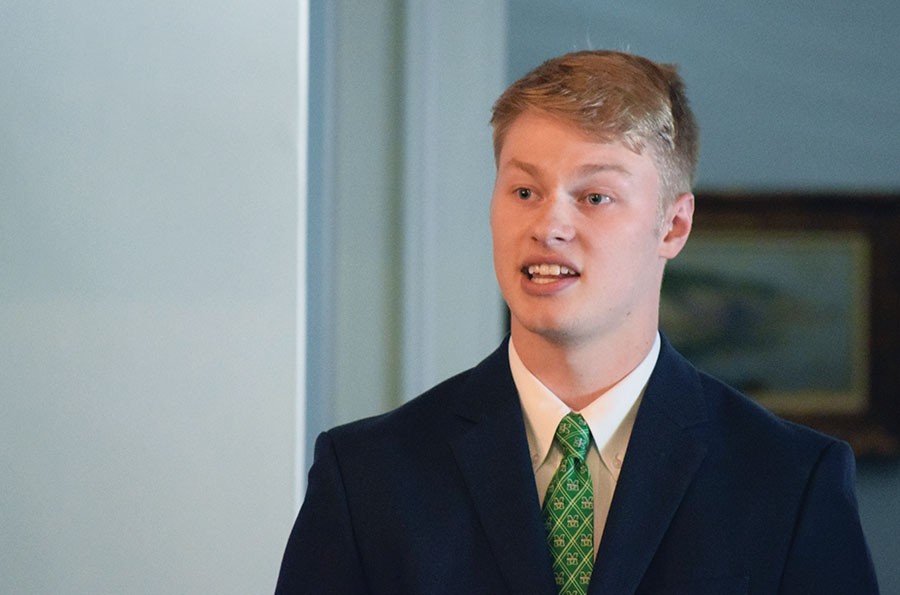 Matt Jarvis is the new elected president for the Student Government Association.
Jarvis is a finance and economics major and musical enthusiast who was born and raised in Nitro, West Virginia.
While attending Nitro high school, Jarvis participated in cross country running and developed his love for classical music and the performing arts.
"I love classical music because of the depth and emotion any particular song evokes," Jarvis said. "My favorite song to sing is Mendelssohn's "It Is Enough" from "Elijah." I can sing in a different language and still feel the emotions portrayed in the song. I love classical music because of the substance."
Upon graduation, Jarvis said he planned on attending the University of Dayton and was enrolled to be a performing arts major. His plans changed when he spent a weekend with his brother in Huntington, who was a student at Marshall University.
After his visit, Jarvis said he fell in love with Marshall and decided to make a last minute decision to enroll. Jarvis said he trusted his instincts, but at first he wasn't so sure he had made the best decision.
"My entire first semester I hated Marshall," he said. "I simply didn't want to be here. I thought once I made my decision to enroll that I'd like it when I got here, but that wasn't the case."
Jarvis got involved with SGA early in college, but said he would attend meetings and go out to dinner with his peers, then immediately go back to his dorm. He said he decided to further extend his involvement on campus by joining Kappa Alpha Psi and Kappa Alpha Order, but he said at first he was hesitant.
"Being openly gay, I thought I wouldn't be allowed to join for some reason or be accepted, but took initiative and started to hang out with the other members of the fraternity," Jarvis said. "They couldn't have been a better group of guys and welcomed me with open arms."
Being more involved with campus and the community, Jarvis began to change his perception about Marshall and what it had to offer. But it wasn't until the fountain ceremony that Jarvis was completely sold that he had made the best decision ever by enrolling in Marshall University.
"The fountain ceremony was the nail in the coffin for me," Jarvis said. "Attending this event made me realize how special this university truly is. Feeling that sense of community, that love and warmth based around such an unfortunate event that the plane crash of 1970 was, this university embraced it, grew from it and didn't let that define them, but allowed it to be the foundation for growth and improvement."
Before being elected president of SGA, Jarvis, along with current vice president Emily Kinner, discussed the unique aspects of Marshall that makes it what it is and how to ensure all students attending the university feel the same love they do.
"We wanted to give students the same experience we've had, unfortunately that is not the case for some of our students," Jarvis said. "There are a lot of barriers for some students to fully enjoy the Marshall experience, whether that be race, religion, sexual preference or to our student commuters who account for 60 percent of our student body population. We just wanted to make a better environment for those students who may not feel as welcomed."
Upon being elected president of SGA, Jarvis made history, but he said he didn't even know it and often forgets.
"It wasn't until an administrator told me in the nicest way possible that in the history of Marshall's SGA program there has never been an openly gay nominee elected as president," Jarvis said. "I don't know how true that may be, but it is an honor to be in this position."
Jarvis said the administrator that told him about his historic accomplishment said it is not only historic for Jarvis, but for the university as a whole in regard to acceptance and growth among the student body.
"When she told me, she also mentioned that this wouldn't have been tolerated here 10 years ago," Jarvis said. "I know there are still some colleges where this isn't tolerated. I've talked to some students attending universities down south and they've said that accepting an openly gay president wouldn't be accepting. Me being elected into this position showed me that this campus is ready for change and ready to set the standard for the future."
Both Kinner and Jarvis are setting an example, with Kinner being a woman elected into a leadership role and Jarvis being openly gay, for establishing equality in light of the preconceived notion that only straight men can be great leaders.
"We can use ourselves as a platform to evoke change," Jarvis said. "For anybody from any background … there is an opportunity here. You are valued as a person on what you think, say or do not, on things that you can't change about yourself."
Although Jarvis is paving the way for change, there are still some areas that he said he will be working to improve during his term as president.
"We do a great job in diversity, but not in inclusiveness," he said. "Yes, the people in power positions may be diverse in race, but that hardly means anything if they don't talk and collaborate."
Kyle Camacho can be contacted at [email protected]